Vought F4U Corsair | 18" Balsa Kit
Vought F4U Corsair | 18" Balsa Kit
Vought F4U Corsair | 18" Balsa Kit
Flying scale model of the US Pacific War superstar | Rubber-powered | Incudes glue and coloured tissue covering
✓ In stock
❌ Sorry! We're out of stock
You'll earn 0 reward points with this purchase.
AT A GLANCE
EAN: 702785155615
Wingspan: 18" (460mm)
Ease of build: Intermediate
Flying skill: Intermediate
Control type: Free-flight
Power system: Rubber
Scale: 1:26
All up weight: 25g

VOUGHT F4U CORSAIR - THE WHISTLING DEATH
In 1938 the U.S. Bureau of Aeronautics issued a specification to manufacturers for a carrier-based fighter bomber. Chance Vought successfully answered this request with a proposal for an aircraft fitted with the biggest, most powerful, air-cooled engine of the day - the hugely powerful Pratt and Whitney 18-cylinder Double Wasp. The engine required a very large diameter propeller to use the 1850 horsepower available, which gave the Vought engineers a headache as it required an equally large clearance to the ground. The simple answer of a tall undercarriage would be unacceptable due to the harsh landing loads expected for a carrier based aircraft. To overcome this problem, the design team lead by Rex Beisel came up with a "bent" inverted gull wing design. The inboard section of the wing having a severe anhedral angle and outboard section a severe dihedral angle with the undercarriage positioned at the joint of the two. As well as being structurally sound the distinctive configuration had the advantage of minimising drag at the wing root to fuselage joint.
The clean lines of the airframe and the powerful engine gave the Corsair a 400mph plus top speed and impressive rates of climb, but the long nose and consequent poor forward visibility when landing, coupled with other difficulties initially made for unsuccessful carrier trials. The U.S. Navy proceeded with the easier to handle Grumman Hellcat, turning over the Corsair to the U.S. Marines. However, the British Fleet Air Arm persisted (probably through necessity as much as any other factor) and by using different landing techniques and modifications, went on to operate the aircraft successfully from carriers.
The U.S. Marines soon made use of the Corsair's speed, agility, ruggedness and range as they flew it from rough runways on small Pacific islands. It is said that the Japanese named the aircraft the "Whistling Death" because of the deadliness of the aircraft along with the distinctive noise created by the air as it passed through the large wing root mounted oil coolers. Operating well after the Second World War, over 12,500 examples of the Corsair were produced over a 9 year period to 1953, with many serving as recently as the late seventies in some territories.
YOUR KIT
This kit is designed for you to build a traditionally constructed, rubber powered, free flight model of a Corsair operated by VMF-216, a fighter squadron of the U.S. Marines Corps - nicknamed the "Bulldogs". The Bulldogs were based on the Essex Class aircraft carrier USS Wasp before taking part in the Battle of Iwo Jima in early 1945.
The kit includes the materials (other than paints) to complete the suggested authentic scheme. This is a simple striking scheme, but you can decide to do your own favourite or more complicated scheme if you wish. Construction of the model from this kit uses the traditional method of 'stick and tissue', that consists of a built up balsa wood skeleton (framework), covered with a tissue skin. The balsa frameworks are built over a plan that is printed at the exact scale of the model, which is in essence a real engineering drawing. Power is provided by rubber strip motor that is wound up before flight.
Free flight means just that – once the model is launched, it is on its own. It must follow a predetermined flight path established when the model is initially adjusted for flight or 'trimmed'. This type of traditional building technique and flying requires a degree of patience and skill, but is extremely rewarding. Typically for a small model and in the spirit of the traditional kits, profiles are simplified and adjusted from the original and a relatively large propeller is used. This is done so that the model is light and stable enough to fly on its own, is simple in construction and can work with the rubber motor. These adjustments have been done with care and sensitivity so that the shape and spirit of the original aircraft is preserved as much as possible. Also in the spirit of the traditional kits, additional items required to build the model are things that can be found in the kitchen drawer or are easily available on the high street.
INCLUDED IN YOUR KIT
Four balsa sheets with precise laser cut parts and strip wood.
PVA glue for building the wooden frames.
One 150mm diameter plastic propeller.
One pre-bent motor hook and shaft.
Three low friction plastic nose bushings - one for the propeller and two for the undercarriage wheels.
One vacuum formed canopy.
Piano wire for the main undercarriage and tail wheel legs.
One motor peg (cocktail stick or toothpick). Rubber motor strip.
Tissue to cover the model.
Parts reference sheet (W), full size summary plan sheet (X), scheme diagram sheet (Y) and scheme markings (Z) printed on lightweight paper.
Only Suitable For Ages 14+
Choking Hazard - Contains small parts, keep out of reach of children.
CORSAIR ORIGINAL INSTRUCTION BOOKLET
Download a spare copy of the instruction booklet included in your kit here: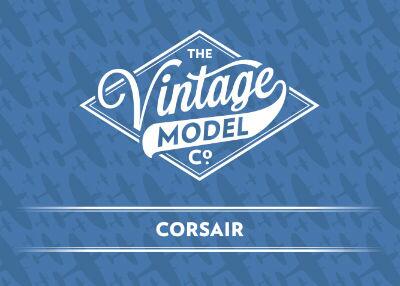 CORSAIR MARKINGS SHEET

Click the link below to download a pdf version of the markings sheet included in the Corsair kit.
The markings sheet should fit onto a single A4 page and may be printed onto your own paper or decal transfer sheet.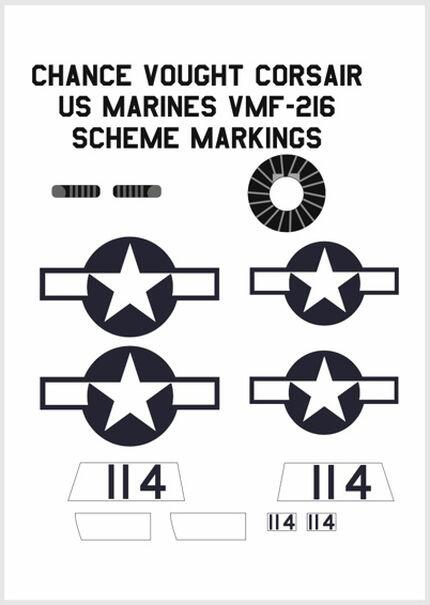 CORSAIR PATTERNS SHEET

Download a pdf version of the patterns for acetate and paper/card parts originally drawn on the plan.
This will save you from having to cut into your beautiful plan!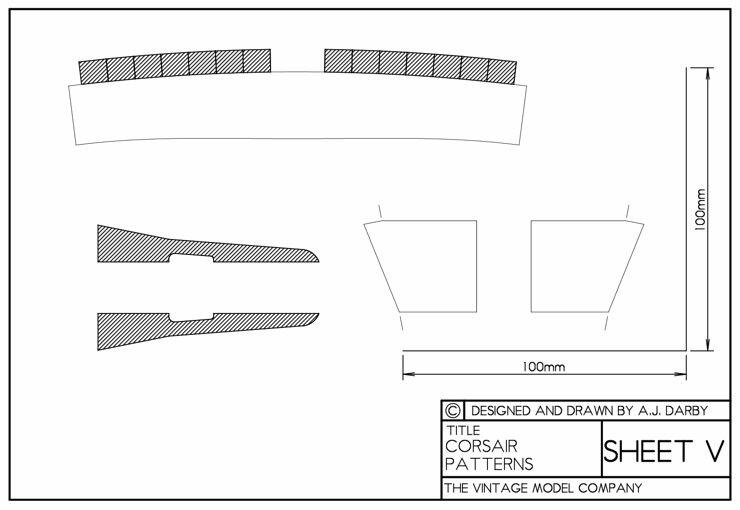 UK SHIPPING
Most orders are shipped via Royal Mail's Tracked 48 service.
For larger or heavier orders, we use UKMail/DHL to deliver your package on a Next Working Day service.
Shipping is free to UK Mainland addresses for orders over £30.00, otherwise we charge £6.00 for Royal Mail Tracked 48 parcels and £12.00 for UKMail/DHL Nest Working Day.
INTERNATIONAL SHIPPING
Smaller items
Items that fit within Royal Mail International Tracked Medium Parcel parameters (59cm x 17cm x 15cm weighing less than 2kg) can be sent to most countries outside the UK.
For example up to 3 of our smaller 18" wingspan kits can fit into one of these parcels.
A parcel like this currently costs around £14 to Europe and around £18 to send to the USA and will take up to 3 weeks to arrive. This is because Royal Mail hands over the parcel to the local Post Office service for your country who have to clear it through customs and then deliver it to you.
The Royal Mail tracking code also transfers over to the tracking for your country's postal service.
Larger items
For items that do not fit within Royal Mail International Tracked Medium Parcel parameters, we use standard international couriers such as DHL, FedEx and UPS.
These companies use something called volumetric weights to calculate the cost of shipping.
For example, a Balsa Basics RC bundle kit that measures 102cm x 34cm x 16cm and weighs 2.5 kg is actually calculated at 14kg!
This makes these very expensive to send outside the UK - a large kit can cost nearly £40 to send to France.
PRODUCT REVIEWS
A meticulously produced kit, that needs thought in building to obtain the best results. One problem I found was that the dimensions of former 5 were fractionally out. The former was too long, more problematically the 'notches' for the stringers on the former were in one case quite seriously misplaced,. Otherwise an excellent kit that repays careful building.
This is my 5th VMC/MFM kit, and the one I've most enjoyed. Does require careful reading of instructions and making sure you understand them before going ahead for each step, but it's a great kit. As always, beautifully clean laser cutting, quality materials and nice clear plans. Gull wing designs are harder to do without warping, but with a bit of perseverance I'm pleased with the result. Great looking plane, and a fun way to spend some time.
This model was a pleasure to build. It is now proudly displayed along with several others bought from Vintage Models. Instructions are clear, diagrams good. Everything you need for the build is included. Good value for money.
It is the worst first the kit comes late second the parts don't fit at all
Good solid kit when constructed plans were clear and precise. The tissue colour was good and matched Humbrol paint number 104 (matt) which meant body parts could be coloured to match the skin. This was a pleasure to build, trying to make my mind up which Vintage model to get next
This is my second model from your excellent company. I built the SE5A biplane just after Christmas and now moved on to the Corsair. As before, the kit is first-class and the instructions are very clear and easy to follow. Some careful thinking required at various stages but that's why one takes on these challenges. Now it's complete I'm very pleased with the result. Thank you again.
After being frustrated at some plastic model kits I bought a guillows p40 large scale kit. It was never to fly, I like the skeleton look. Plans vague, outline etc... really not up to 2017 in my mind standards. I was happy considering problems. I suffer from deppresion, anxiety, anxiosness etc... looking at plans at first confuses me, more so than the probable average builder. I'm not experienced, but have basic skills. Unboxing was great, bits n Bob's etc. Checking balsa I could see no part numbers e.g. F6. This through me out at first. Opinion, print part nos on balsa, just so much easier to follow etc. Laser cutting is perfect! Minimal clean up, except for rear stabiliser main spar. Just a fraction off, couldn't get a perfect symmetrical alignment, spars. It's not a flyer, skeleton. Nobody would notice, but I do. That is the only very minor problem. Pay more than a guillows but get a better product. I was also a bit bemused that the modern range uses, shall we say 50s 60s balsa profiling etc when a modern ish vac cowl would suffice. Just ease of cow's etc. I'm yet to build the fuselage, from what I have experienced so far, it should be fine! Diagrams similar to model kits in the instruction booklet would in my mind help a lot. Keep the plans just as building plans, no outher info... extra info included in booklet, easy to read diagrams etc... just my honest first impressions... I'm very happy with this model so far, wing sections done and fit great! I was at first daunted by the build of gull wing... head scratch, 're read, dry build, parts numbered and done! Very satisfying sense of achievement... I will be buying another from the range as I'm on the fuselage! 8.5/10 great to get lost in a build. I think I could say that the product is equal to the Brand Tamiya, but in balsa! Not quite shake and bake, yet a great product!
Leave a review