VMC Pilot | 19" Balsa Kit
VMC Pilot | 19" Balsa Kit
✓ In stock
❌ Sorry! We're out of stock
You'll earn 0 reward points with this purchase.
AT A GLANCE
EAN: 702785155929
Wingspan: 19" (483mm)
Ease of build: Beginner
Flying skill: Beginner
Control type: Free-flight
Power system: Rubber
Scale: N/A
All up weight: 25g

THE VMC PILOT - EASY TO BUILD, TRADITIONAL FLYING FUN
The VMC Pilot is a high wing cabin sports model designed for fun flying. This is not a scale model based on a real (or what modellers call the 'prototype') aircraft, but is designed purely as a flying model. Sports models come in many guises and are often flown in competitions that are purely about flying duration, with many different sets of rules and regulations governing their size and shape. Often these models bear no resemblance to a real aircraft at all, with thin tubular fuselages, no undercarriage and very long thin wings.
A cabin sports model is one that has a 'cockpit' where a notional pilot could sit, with fewer compromises to the size and shape for duration. Therefore, it sits between a scale model and a pure duration model both in the way it looks and the way it performs.
These models are much easier to build and fly than their scale model counterparts and therefore form an ideal starting point for a new modeller.
YOUR KIT
This kit is for building a traditionally constructed, rubber-powered, free-flight cabin sports model of an original design by the Vintage Model Company (VMC). Construction of the model from this kit uses simple balsa wood surfaces and the traditional method of 'stick and tissue' for the wings; that is to say, a built up balsa wood skeleton (framework), covered with a tissue skin. The balsa wings are built over a plan printed at their exact scale. Power is provided by a rubber strip motor that is wound up before flight.
Free-flight means just that – once the model is launched it is on its own. It must follow a predetermined flight path established when the model is initially adjusted for flight or 'trimmed'. Also in the spirit of traditional kits, additional items required to build the model are things that can be found in the kitchen drawer or are easily available on the high street.
INCLUDED IN YOUR KIT
Three balsa sheets with precise laser cut parts and strip wood.
PVA glue for building the wooden frames.
Piece of P400 Sandpaper.
Pre-formed wire main undercarriage.
Three low friction plastic 'nose' bushings – one for the propeller and two for the undercarriage wheels.
Three cocktail sticks /toothpicks to use as dowels.
One 150mm diameter plastic propeller.
One pre-bent motor hook and shaft.
Coloured covering tissue.
Piece of clear acetate for the windows and 'trim tabs'.
Lightweight printed paper graphics sheet.
Two rubber bands to secure the wings.
Rubber motor strip.
Two building plan sheets.
Parts reference sheet.
VMC PILOT ORIGINAL INSTRUCTION BOOKLET
Download a spare copy of the instruction booklet included in your kit here: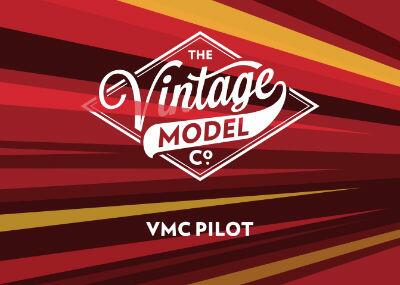 VMC PILOT MARKINGS SHEET
Download a pdf version of the markings sheet included in the VMC Pilot kit here:
The markings sheet should fit onto a single A4 page and may be printed onto your own paper or decal transfer sheet.
UK SHIPPING
Most orders are shipped via Royal Mail's Tracked 48 service.
For larger or heavier orders, we use UKMail/DHL to deliver your package on a Next Working Day service.
Shipping is free to UK Mainland addresses for orders over £30.00, otherwise we charge £6.00 for Royal Mail Tracked 48 parcels and £12.00 for UKMail/DHL Nest Working Day.
INTERNATIONAL SHIPPING
Smaller items
Items that fit within Royal Mail International Tracked Medium Parcel parameters (59cm x 17cm x 15cm weighing less than 2kg) can be sent to most countries outside the UK.
For example up to 3 of our smaller 18" wingspan kits can fit into one of these parcels.
A parcel like this currently costs around £14 to Europe and around £18 to send to the USA and will take up to 3 weeks to arrive. This is because Royal Mail hands over the parcel to the local Post Office service for your country who have to clear it through customs and then deliver it to you.
The Royal Mail tracking code also transfers over to the tracking for your country's postal service.
Larger items
For items that do not fit within Royal Mail International Tracked Medium Parcel parameters, we use standard international couriers such as DHL, FedEx and UPS.
These companies use something called volumetric weights to calculate the cost of shipping.
For example, a Balsa Basics RC bundle kit that measures 102cm x 34cm x 16cm and weighs 2.5 kg is actually calculated at 14kg!
This makes these very expensive to send outside the UK - a large kit can cost nearly £40 to send to France.
PRODUCT REVIEWS
Very nice kit. easy to build and fly, even with very few trimming.
Review : building VMC 'Pilot' My interest in working with wood material was started when I saw models in plywood of Ugears . After making three cars by myself I wad interested in something new when I saw a YouTube of a balsa airplane build. Being retired (68) I have more then enough time for this. The video I watched was that of a beginners model of Guillow's : Lancer . So I bought it. But then I saw Rob Brennan's excellent video of his making of the VMC Pilot. And decided to first buy and make one of my own. Rob gave me a good listing of the type of tools he used to make his build successful. So before starting I purchased almost all of them. ( In the many videos I watched it came clear to me that having the right tools would benefit a successful process ). VMC listed the Pilot as an ideal beginner's model. Which in essence is true but..: * I missed some explanation text in the little booklet. * * Especially I would highly recommend to add picture's in this booklet. Those are far more clear than just plain text. ( Guilow's did a better job for me with all the text and pictures on their plan of the Lancer ) * * Also add a link to the build video of Rob Brennan ( Maybe as a separate sticker outside on the box ). The target group is presumably young kids so they can benefit the most of it. * * I would suggest to add a picture of 'do' and 'don't' how to handle the wings. I lifted the finished wing from my plan on the corkboard and hold my fingers at the weakest spot ( the tiny square strip (SQS) that connects the ribs ). And it bend immediately. **My first lesson learned**. * * The included yellow tissue was more then enough. As was the case with the markings. I started however with measuring and cutting the smallest of the over-sized coloured panels. And unfortunately from the first panel I had cut off too much excess paper. And these red panels where not 'double'. So I had to add first a piece of yellow paper on the bottom fuselage and on top of that glue the red panel. **My second lesson learned:** Check and Double Check. My conclusion: Compared to the Guillow's Lancer I preferred the balsa of this VMC Pilot. Really easy to cut out. I knew in advance that beginners mistake could occur but I am even glad for that. Because I learned the most in that way. Many thanks also to Rob Brennan for his good and fast answers on my questions related to this model. Today the Pilot is finished and I can now start with the Lancer . The third airplane is already in house : The VMC SE5A. I have great confident that I can build that one flawless . By finishing the Lancer my learning curve is high enough by then. In the past weeks I browsed the internet for micro RC gliders and micro RC electric Cessna ( lookalikes ) airplanes made out of foam . We live very close to an ideal park where I can fly these. And again I will start first with a beginners model ( wing width 50cm ,3CH operations , costs complete set below 50€). Looking forward to that as well.
I just finished this VMC Pilot and am really pleased as the last model I built was 60 years ago. I was amazed at the simplicity of construction, overall quality of the kit, and the total wonder of laser cut parts! The instructions were straight forward and accurate. Shipping to the US took only a week. This was so much fun, I'm going to build another - maybe the Cessna Bird Dog as it's also listed as a "beginner" model. All in all, a great experience for this old man!
Nice easy build and with some only a some nose weight added. The Pilot flies balanced perfectly and flies beautifully. Glides in every time and lands on both wheels so far. I've since taken circle of balsa out of the nose (top & bottom) and a 1"x1/2" oblong at each side of the stabiliser and covered the holes with tissue, however, this did not make any noticeable difference to the original build. Brilliant little model to get airborne and I would recommend this as a first time build.
What a cracking little model, went together without a hitch, I used tissue to cover the fuselage instead of the paper. (top and bottom) Flies superbly. Definitely converted to free flight rubber now
Leave a review