Sparrowhawk Sports Flier | 20" Balsa Kit
Sparrowhawk Sports Flier | 20" Balsa Kit
Sparrowhawk Sports Flier | 20" Balsa Kit
Easy to build & fly cabin sports model | Rubber-powered | Includes glue & two-coloured tissue covering
✓ In stock
❌ Sorry! We're out of stock
You'll earn 0 reward points with this purchase.
AT A GLANCE
EAN: 702785155530
Wingspan: Wingspan - 20" (505mm)
Ease of build: Beginner
Flying skill: Beginner
Control type: Free-flight
Power system: Rubber
Scale: N/A
All up weight: 25g

SPARROWHAWK - RUBBER POWERED FLYING FUN
The Sparrowhawk is a high wing, cabin sports model designed for fun flying. This is not a scale model based on a real (or what modellers call "prototype") aircraft, but is designed purely as a flying model. Sports models come in many guises and are often flown in competitions that are purely about flying duration, with many different sets of rules and regulations governing their size and shape. Often these models bear no resemblance to a real aircraft at all, with thin tubular fuselages, no undercarriage and very long thin wings.
A cabin sports model means one which has a "cockpit" where a notional pilot could sit, with fewer compromises to the size and shape for duration. Therefore it sits between a scale model and a pure duration model, both in the way it looks and the way it performs.
These types of models are much easier to build and fly than their scale model counterparts and therefore form an ideal starting point for a new modeller.
YOUR KIT
This kit is designed for you to build a traditionally constructed, rubber powered, free flight cabin sports model of an original design by The Vintage Model Company. Construction of the model from this kit uses the traditional method of "stick and tissue" that consists of a built up balsa wood skeleton (framework), covered with a tissue skin. The balsa frameworks are built over a plan printed at the exact scale of the model which is in essence a real engineering drawing. Power is provided by a rubber strip motor that is wound up before flight.
Free flight means just that, once the model is launched it is on its own. It must follow a predetermined flight path established when the model is initially adjusted for flight or "trimmed". This type of traditional building technique and flying requires a degree of patience and skill, but is extremely rewarding. Although not a "serious" sports model, if built correctly, properly stretch wound and in the right hands, the Sparrowhawk is capable of surprisingly long flights (1 minute plus) both indoors and outdoors on a calm day.
In the spirit of the old kits additional items required to build the model are things that can be found in the kitchen drawer or are easily available on the high street.
INCLUDED IN YOUR KIT
Three balsa sheets with precise laser cut parts and strip wood.
PVA glue for building the wooden frames.
One 180mm diameter plastic propeller.
One pre-bent motor hook and shaft.
Three low friction plastic nose bushings - one for the propeller and two for the undercarriage wheels.
Piano wire for the main undercarriage legs.
Dowel for the wing fixings, tail plane fixings and for the motor peg.
Rubber bands to hold the wings and tail plane in position.
Rubber motor strip.
Piece of clear acetate for the windows and "trim tabs".
Tissue to cover the model.
Parts reference sheet (W) and full size summary plan sheet (X).
SPARROWHAWK ORIGINAL INSTRUCTION BOOKLET
Download a spare copy of the instruction booklet included in your kit here: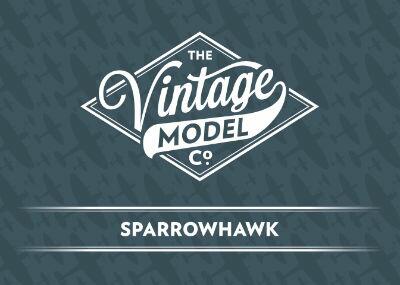 SPARROWHAWK PATTERN SHEET

Download a pdf version of the patterns for acetate and paper/card parts originally drawn on the plan.
This will save you from having to cut into your beautiful plan!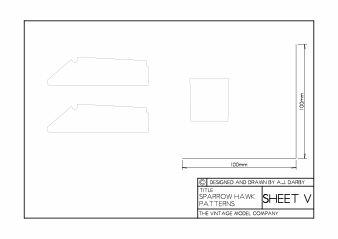 UK SHIPPING
Most orders are shipped via Royal Mail's Tracked 48 service.
For larger or heavier orders, we use UKMail/DHL to deliver your package on a Next Working Day service.
Shipping is free to UK Mainland addresses for orders over £30.00, otherwise we charge £6.00 for Royal Mail Tracked 48 parcels and £12.00 for UKMail/DHL Nest Working Day.
INTERNATIONAL SHIPPING
Smaller items
Items that fit within Royal Mail International Tracked Medium Parcel parameters (59cm x 17cm x 15cm weighing less than 2kg) can be sent to most countries outside the UK.
For example up to 3 of our smaller 18" wingspan kits can fit into one of these parcels.
A parcel like this currently costs around £14 to Europe and around £18 to send to the USA and will take up to 3 weeks to arrive. This is because Royal Mail hands over the parcel to the local Post Office service for your country who have to clear it through customs and then deliver it to you.
The Royal Mail tracking code also transfers over to the tracking for your country's postal service.
Larger items
For items that do not fit within Royal Mail International Tracked Medium Parcel parameters, we use standard international couriers such as DHL, FedEx and UPS.
These companies use something called volumetric weights to calculate the cost of shipping.
For example, a Balsa Basics RC bundle kit that measures 102cm x 34cm x 16cm and weighs 2.5 kg is actually calculated at 14kg!
This makes these very expensive to send outside the UK - a large kit can cost nearly £40 to send to France.
PRODUCT REVIEWS
After building rc modes until the age of 16 and a brief period in my 30's with Guillows and Keil Kraft free flight models, I've decided to give modelling another go at the age of 50. Being disappointed by the quality of kits by Dumas, I ordered the Sparrowhawk. So what do you get? First of all, the kit comes in a rigid cardboard box with a nice "Made in Britain" sticker on it. The balsa sheets are of high quality and laser cut to a precision I have never seen before. The plan and the tissue are rolled, not folded, so no unnecessary wrinkles. Also, the sheets are sealed in biodegradable plastic bags. From the kit alone you realize that the vintage model company is passionate about their profession. Building the model is a delight since all the parts fit almost perfectly, rework is rarely needed. My model came out at 28 grams without trim weight, I don't know if this is any good. It was no question for me that my next model would also be by VMC, so now the Veron Fledgling is on my workbench.
Nice model that went together a dream. Only small build changes I made was to add 2 pieces (1 top &1 bottom) of 3/8th x 1/16 directly behind the nose to assist with placement of ballast for balance, which when the model was finished amounted to less than 2g of Blu Tack and I managed to successfully used 3 pieces of tissue to the top surface of the wing instead of 5. Rudder trim tab is made from a takeaway tray. Just waiting now for some calm weather to do trim and then fly.
Finished this little model. It went together effortlessly. The instruction booklet was great. Just needed 3g of nose weight. Went testing it with my two young daughters. Both not keen. But soon got into it when the Sparrow hawk took flight. We spent a pleasant afternoon. Me winding it up and letting it go. They, running after it and bringing it back to dad. Had so much fun that I have ordered the Me109.
A great, simple model, aimed at the beginner. I think it would be so much easier if it were just a bit bigger, say 30" wingspan. The parts are fiddly and it is relatively difficult to trim as it is small. Don't get me wrong, it does fly, but it is more erratic than it need be. Otherwise a great effort, the parts fit well and the instructions are clear. Hurrah for the VMC, marketing free-flight models.
I bought this to teach my 10-year old son to make traditional rubber-powered flying models. It is a straightforward build and went together superbly. When complete, and correctly balanced with a little bit of nose-weight, it required virtually no tweaking to fly. With the supplied rubber motor we immediately got 30-second flights, and with a slightly longer one we were up for nearly a minute! Happy lad, happy dad.
First model I have built in 30years easy to build and flew beautifully with minimal trimming. Have made a couple of mods ( Slightly longer motor and different prop) great fun my grandsons love it. Well done Vintage Model co I will certainly be buying more kits
Leave a review