SE5A | 16" Balsa Kit
Build and fly the iconic WW1 British fighter | Rubber-powered | Includes glue and coloured tissue covering
✓ In stock
❌ Sorry! We're out of stock
You'll earn 0 reward points with this purchase.
AT A GLANCE
EAN: 702785155547
Wingspan: 16" (406mm)
Ease of build: Intermediate
Flying skill: Intermediate
Control type: Free-flight
Power system: Rubber
Scale: 1:20
All up weight: 25g

SE5A - FIRST HERO OF THE ROYAL AIR FORCE
The SE5A was a development of the earlier SE5 (Scout Experimental 5) biplane, designed to gain air superiority over the German Luftstreitkrafte towards the end of World War 1. Designed by H P Folland at the Royal Aircraft Factory, the early SE5s were under-powered and suffered a number of handling problems as well as weaknesses in the undercarriage. However, the basic design showed so much promise that the concerns were addressed and resolved - the result being the much more successful SE5A.
Over 5200 SE5As were manufactured by a number of companies, most notably Wolseley Motors, Austin Motors and Vickers. Initially, delivery to squadrons was held up by poor reliability and availability of the originally specified Hispano Suiza engine. Later models were fitted with the much more powerful and reliable Wolseley Viper engine (itself a development of the Hispano Suiza unit), which got the aircraft to the RFC squadrons that needed them from April 1917.
Although not as manoeuvrable in a dog fight as the SE5A's contemporary the Sopwith Camel, its earlier arrival into the war, alongside its speed, strength and stability, made it a favourite of many pilots.
YOUR KIT
This kit is designed for you to build a traditionally constructed, rubber powered, free flight model of a 1918 SE5A fitted with the Wolseley Viper engine. The kit includes the materials (other than paints) to complete the suggested authentic scheme of a brown SE5A flown by 84 Squadron of the then newly formed RAF.
This is a simple but striking scheme, however you can decide to do your own favourite or more complicated scheme if you wish.
This particular aircraft was being piloted by Major C E M Pickthorn MC on the 10th November 1918, when he destroyed a Fokker DVII close to the town of Chimay in Belgium. After the war it was sold as surplus to be used for skywriting, then stored for many years before being restored to flying condition in the 1950s and again in the 1970s. In 2007 it was extensively refurbished and is (at time of writing) displayed and flown by the Shuttleworth Collection based at the Old Warden Aerodrome in Bedfordshire, England.
Construction of the model from this kit uses the traditional method of "stick and tissue", that consists of a built up balsa wood skeleton (framework), covered with a tissue skin. The balsa frameworks are built over a plan that is printed at the exact scale of the model, which is in essence a real engineering drawing. Power is provided by rubber strip motor that is wound up before flight.
Free flight means just that - once the model is launched, it is on its own. It must follow a predetermined flight path established when the model is initially adjusted for flight or "trimmed". This type of traditional building technique and flying requires a degree of patience and skill, but is extremely rewarding. Typically for a small model and in the spirit of the traditional kits, profiles are simplified and adjusted from the original and a relatively large propeller is used. This is done so that the model is light and stable enough to fly on its own, is simple in construction and can work with the rubber motor. These adjustments have been done with care and sensitivity so that the shape and spirit of the original aircraft is preserved as much as possible.
Also in the spirit of the traditional kits, additional items required to build the model are things that can be found in the kitchen drawer or are easily available on the high street.
INCLUDED IN YOUR KIT
Four balsa sheets with precise laser cut parts and strip wood.
PVA glue for building the wooden frames.
One 150mm diameter plastic propeller.
One pre-bent motor hook and shaft.
Small piece of acetate sheet for the screen
Three low friction plastic nose bushings - one for the propeller and two for the undercarriage wheels.
Piano wire for the main undercarriage and tail wheel legs.
One motor peg (cocktail stick or toothpick).
Two plastic drinking straws (approximately 5mm in diameter).
Rubber motor strip.
Tissue to cover the model.
Parts reference sheets (W), full size summary plan sheets (X), scheme diagram sheet (Y) and scheme markings (Z) printed on lightweight paper.
SE5A ORIGINAL INSTRUCTION BOOKLET
Download a spare copy of the instruction booklet included in your kit here: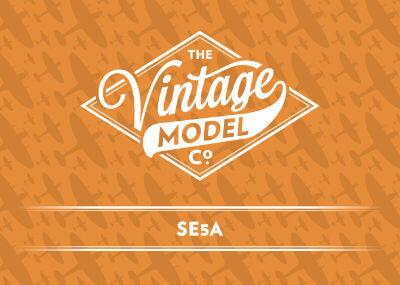 SE5A MARKINGS SHEET

Click the link below to download a pdf version of the markings sheet included in the SE5a kit.
The markings sheet should fit onto a single A4 page and may be printed onto your own paper or decal transfer sheet.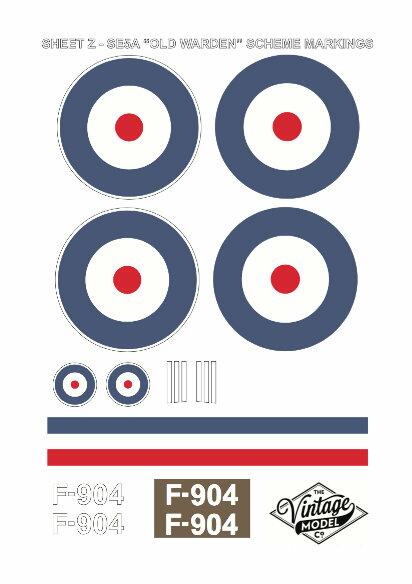 SE5A PATTERNS SHEET

Download a pdf version of the patterns for acetate and paper/card parts originally drawn on the plan.
This will save you from having to cut into your beautiful plan!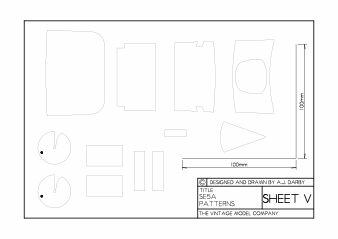 UK SHIPPING
Most orders are shipped via Royal Mail's Tracked 48 service.
For larger or heavier orders, we use UKMail/DHL to deliver your package on a Next Working Day service.
Shipping is free to UK Mainland addresses for orders over £30.00, otherwise we charge £6.00 for Royal Mail Tracked 48 parcels and £12.00 for UKMail/DHL Nest Working Day.
INTERNATIONAL SHIPPING
Smaller items
Items that fit within Royal Mail International Tracked Medium Parcel parameters (59cm x 17cm x 15cm weighing less than 2kg) can be sent to most countries outside the UK.
For example up to 3 of our smaller 18" wingspan kits can fit into one of these parcels.
A parcel like this currently costs around £14 to Europe and around £18 to send to the USA and will take up to 3 weeks to arrive. This is because Royal Mail hands over the parcel to the local Post Office service for your country who have to clear it through customs and then deliver it to you.
The Royal Mail tracking code also transfers over to the tracking for your country's postal service.
Larger items
For items that do not fit within Royal Mail International Tracked Medium Parcel parameters, we use standard international couriers such as DHL, FedEx and UPS.
These companies use something called volumetric weights to calculate the cost of shipping.
For example, a Balsa Basics RC bundle kit that measures 102cm x 34cm x 16cm and weighs 2.5 kg is actually calculated at 14kg!
This makes these very expensive to send outside the UK - a large kit can cost nearly £40 to send to France.
PRODUCT REVIEWS
Lovely model of my grandfather's WW1 plane - thank you so much!
A super little kit. It almost 'clicks' together such is the fit of the laser cut parts, and the jigs and instructions make the usually tricky business of aligning biplane wings far easier. Looks the part too. Mine flies quite nicely on the suggested rubber.
I decided to cover the nose section of the model with thin balsa rather than the paper, as this makes the model much stronger and looks so much better. With regard to the paper "transfers" I found that when you doped over them as I did the ink used in the printing is not colour fast and tended to smear if you were not careful. Proper transfers would not cost much more and would improve the final finish!
VMC - SE5a I love the WW1 type of Airplanes and the SE5a has a nice history. Working with balsa wood is so easy , just be patient and careful because it is vulnerable material but once glued together it's amazing strong. Probably also because VMC uses 1.6mm balsa. Every time I finish creating a model airplane gives great satisfaction and the VMC models are great. One of my recommendations is to add pictures in the booklet. And I was pleasantly surprised that VMC is of the same opinion. The booklet for the radio controlled model of the WW1 SE5a fighter delivers that ! Another request is to add on the website , just by example what to expect, a few pages of the booklet -and- at least a glimpse of the plan. Last remark is to add supporting characters on the plan ( A, B etc ) as reference for the accompanying text in the booklet. The scoring of the Fuselage right after strengthener F6 is a critical process also because the two parts should come together right in the middle. To help this I drew a line on the plane to make sure it does that in equal proportion . Surprisingly after finishing it I spotted on the plan such "fuselage alignment gauge line". No reference in the textbook about this. For me sheet1 is to full with text and drawings. I lost overview . That's why I prefer to have images in the booklet . After finishing the bottom wings I discovered a huge mistake. One of the R4 wing ribs was glued on the Upper Wing position. So seriously corrections where needed. But I managed to make things work. I could not reproduce how this mistake was made since I only cut out those items used for a specific task to glue on the plan. The Stickers , are not real stickers, but just a coloured piece of Paper. This looks cheap and isn't as bright and real as a genuine sticker. But.., Better have this than none at all. Really positive of VMC is that they always put in the box the colour of Esaki paper what is advertised on their website and pictured on the box. From experience I can report you that this isn't always the case by an other manufacturer. I struggled a lot to put two wing struts on the Lower and Higher winghalf. But was able to glue the lower wing-half in the right position onto the fuselage on my way ! Would recommend In a future version #2 of the plan and booklet to describe: Outer wing strut only is more then enough to fix the lower wing. I was pleasantly surprised how strong the attached lower wing fits to the higher wing. Compliment how this works in the end. A top view of the fuselage would be a nice addition to have. The plan was designed and drawn by A.Darby. He did a great job. Please add as info the short video by Rob Brennan ( a set of still photo's. ). As always it is useful. The two fuselage parts must be glued together at the tail by making a score in order to bend the parts. The tail peg ( iso of wheel ) had no good option to glue it (no balsa wood to attach it at that position). So I put at the end between the fuselages extra balsa wood in order to fix it. Also did I glue ( at each side ) additional a small strip of wood to prevent the tail part to bend in a direction. ( Which happened before this fix ). Needless to say that I covered these extra small items also with paper. Working with balsa wood is a great fun. And it's gives great satisfaction to see the finished product: A lovely little model airplane. I really enjoyed the making of it. My next VMC model ( Osprey Glider ) is working in progress now and is the first airplane which I will go to fly outside. After that I am looking forward to build a RC glider with a substantial bigger wingspan.
As an old timer coming back to aeromodelling after a 40 year absence this was just the thing! Laser cut parts that fit perfectly are just the job as my eyesight and dexterity of fingers are not quite as good as they once were! I now have a beautiful model that flew pretty well first time off. A very enjoyable and satisfying build, and I can't wait to get stuck into my next model, which will be your red hurricane. Thank you and please keep the new designs coming, especially of the early flying machines. Thank you again!
This is a beautifully prepared kit that would delight traditional aeromodellers, although possibly not for beginners. The parts fit together perfectly and the instructions are very helpful. Although meant for rubber power, I converted mine to a tiny brushless leccy motor with a diy timer, see: https://www.youtube.com/watch?v=wG9xbIG5zEU
This was a gift I had for Christmas 2016 and was the first balsawood build I have completed. I must admit I was a bit daunted when I opened the box and initially thought there was no way I would be able to build this. However once I had read the instructions I thought how similar it was to the plastic model kits I am used to. Once I started the build I found the laser cut parts were a far better fit than the likes of some of the Airfix/Revell kits I have built in the past. So all in all a great kit with detailed build instructions and was a pleasure to build in the end. However one very slight addition to the instructions especially for first time builders to stop them from having a slight panic attack would be to inform them that when applying the dope the tissue will relax and wrinkle before going taut again like it did when shrinking it. Not sure if this is allowed but I have a YouTube video of my build at https://youtu.be/GMXarMCTLEk
I made a few control line planes back in the 70's, but until my wife bought me this recently, I'd never tried a rubber free flight model. It is a truly outstanding model with excellent instructions. I never thought I'd end up with something looking so wonderful at my first attempt. It's got me hooked and when I finish my recently purchased Senator I think the Sopwith Triplane is next on my list! Well done to The Vintage Model Company, for making the old modelling arts accessible to the newcomer!
I'm a new builder and decided to go for the SE5A to give myself a bit of a challenge. The kit is very well presented and has been a pleasure to build from start to finish. The instructions are clear and detailed, the parts are high quality and well cut. Even though this was my first attempt at a biplane, the quality of the kit helped to make this my most drama free build to date.
Leave a review