P-51D Mustang | 18" Balsa Kit
P-51D Mustang | 18" Balsa Kit
P-51D Mustang | 18" Balsa Kit
Build and fly the mighty US P51D Mustang | Rubber-powered | Includes glue and two-coloured tissue covering
✓ In stock
❌ Sorry! We're out of stock
You'll earn 0 reward points with this purchase.
AT A GLANCE
EAN: 702785155950
Wingspan: 18" (460mm)
Ease of build: Intermediate
Flying skill: Intermediate
Power system: Rubber
Scale: 1:24
All up weight: 25g

THE MUSTANG – AN ALL-AMERICAN HERO
In 1939 the inevitability of war in Europe had the British government seeking to strengthen the RAF's fighter capability. In the spring of 1940 they approached North American to build the Curtiss P40 under licence to increase supply. However, North American thought the P40 to be outdated and suggested that they design their own aircraft from scratch. The British agreed but demanded that the prototype be ready in less than 4 months with flights 6 weeks later. North American duly obliged and the aircraft first flew in October 1940.
Immediately the new aircraft outperformed the Curtiss design, which used the same Allison engine but had an advanced "laminar flow" wing and low-drag, under-belly cooling system. The British ordered a number of the aircraft, which were pressed into service with 26 Squadron in January 1942 for reconnaissance and ground attack roles, under Army Co-operation Command rather than fighter command. This was due to the restricted high altitude performance afforded by the Allison engine with its single-stage, single-speed supercharger. However, Rolls Royce test pilot Ronald Harker saw the potential in the aircraft and suggested a trial using the latest variant of the British designed Rolls Royce Merlin engine with two-stage, two-speed supercharger.
The results were spectacular, the potential of the design was finally realised and a legend was born. With constant updates, including the addition of the British-developed bubble canopy, the design evolved into what many consider to be the definitive Mustang - the P-51D. The all- round visibility, range and speed of later Mustangs proved to be vital to provide fighter escort to the US bombing campaigns later in the war, as well as successfully engaging the early German jet fighters. Along with its allied counterpart the Spitfire, many consider the Mustang to be the finest piston-engined aircraft of World War Two.
The Mustang continued in service until as late as the 1980's in some territories. Overall, 15,000 Mustangs were built, with more than half of that total being the P-51D.
YOUR KIT
This kit is designed for you to build a traditionally constructed, rubber powered, free flight model of a P-51D Mustang factory serial number 44-13557 as delivered to 355th fighter group based at Steeple Morden, England circa July 1944. The kit includes the materials (other than paints) to complete the suggested authentic scheme.
This is a simple but striking scheme, but you can decide to do your own favourite or more complicated scheme if you wish. There are plenty to choose from - USAAF Mustangs were often brightly painted and highly individual to the pilot. This is a simple striking scheme, but you can decide to do your own favourite or more complicated scheme if you wish. Construction of the model from this kit uses the traditional method of 'stick and tissue', that consists of a built up balsa wood skeleton (framework), covered with a tissue skin. The balsa frameworks are built over a plan that is printed at the exact scale of the model, which is in essence a real engineering drawing. Power is provided by rubber strip motor that is wound up before flight.
Free flight means just that – once the model is launched, it is on its own. It must follow a predetermined flight path established when the model is initially adjusted for flight or 'trimmed'. This type of traditional building technique and flying requires a degree of patience and skill, but is extremely rewarding. Typically for a small model and in the spirit of the traditional kits, profiles are simplified and adjusted from the original and a relatively large propeller is used. This is done so that the model is light and stable enough to fly on its own, is simple in construction and can work with the rubber motor. These adjustments have been done with care and sensitivity so that the shape and spirit of the original aircraft is preserved as much as possible. Also in the spirit of the traditional kits, additional items required to build the model are things that can be found in the kitchen drawer or are easily available on the high street.
INCLUDED IN YOUR KIT
Three balsa sheets with precise laser cut parts and strip wood.
PVA glue for building the wooden frames.
One 150mm diameter plastic propeller.
One pre-bent motor hook and shaft.
A vacuum formed canopy and spinner
Three low friction plastic 'nose' bushings– one for the propeller and two for the undercarriage wheels.
Piano wire for the main undercarriage and tail wheel.
Three cocktail sticks or toothpicks, one for the motor peg, the other two for the exhaust stubs
Rubber motor strip.
Tissue to cover the model.
Parts reference sheets (W), full size summary plan sheets (X), scheme diagram sheet (Y) at the back of this booklet and scheme markings (Z) printed on lightweight paper.
Only Suitable For Ages 14+
Choking Hazard - Contains small parts, keep out of reach of children.
MUSTANG ORIGINAL INSTRUCTION BOOKLET
Download a spare copy of the instruction booklet included in your kit here: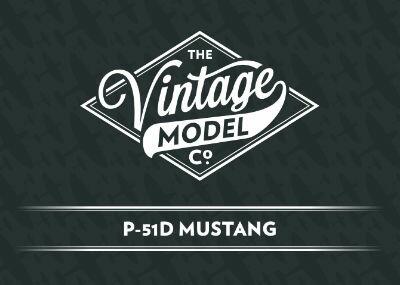 MUSTANG MARKINGS SHEET

Click the link below to download a pdf version of the markings sheet included in the Mustang kit.
The markings sheet should fit onto a single A4 page and may be printed onto your own paper or decal transfer sheet.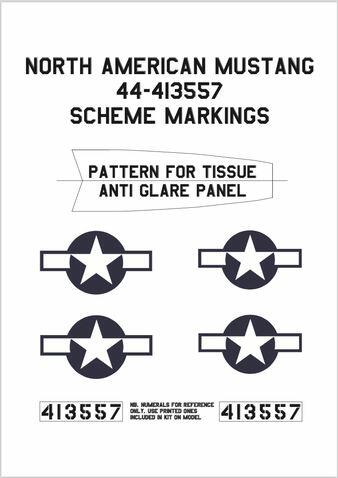 MUSTANG PATTERNS SHEET

Download a pdf version of the patterns for acetate and paper/card parts originally drawn on the plan.
This will save you from having to cut into your beautiful plan!
UK SHIPPING
Most orders are shipped via Royal Mail's Tracked 48 service.
For larger or heavier orders, we use UKMail/DHL to deliver your package on a Next Working Day service.
Shipping is free to UK Mainland addresses for orders over £30.00, otherwise we charge £6.00 for Royal Mail Tracked 48 parcels and £12.00 for UKMail/DHL Nest Working Day.
INTERNATIONAL SHIPPING
Smaller items
Items that fit within Royal Mail International Tracked Medium Parcel parameters (59cm x 17cm x 15cm weighing less than 2kg) can be sent to most countries outside the UK.
For example up to 3 of our smaller 18" wingspan kits can fit into one of these parcels.
A parcel like this currently costs around £14 to Europe and around £18 to send to the USA and will take up to 3 weeks to arrive. This is because Royal Mail hands over the parcel to the local Post Office service for your country who have to clear it through customs and then deliver it to you.
The Royal Mail tracking code also transfers over to the tracking for your country's postal service.
Larger items
For items that do not fit within Royal Mail International Tracked Medium Parcel parameters, we use standard international couriers such as DHL, FedEx and UPS.
These companies use something called volumetric weights to calculate the cost of shipping.
For example, a Balsa Basics RC bundle kit that measures 102cm x 34cm x 16cm and weighs 2.5 kg is actually calculated at 14kg!
This makes these very expensive to send outside the UK - a large kit can cost nearly £40 to send to France.
PRODUCT REVIEWS
The hardest part of this build is the (supplied) silver tissue; it's not easy to wet consistently as the silver coating is a little resistant to water, and so getting a really nice finish is difficult. It's worth persevering though as the end result looks great. Usual VMC quality kit with absolutely perfect laser cut parts and excellent instructions.
This is my third Vintage Models build. Another great kit. The Spitfire was good practice as the construction is identical. No problems building it. A few of the instructions are unclear. I love the silver tissue which covers the air frame well. The aircraft markings and transfers really make it look good. As usual, the spinner was my biggest headache. How do you cut the slots for the prop blades? Thanks for filling some lockdown hours - now, what's next?
Leave a review