Jodel D-18 | 18" Balsa Kit
Jodel D-18 | 18" Balsa Kit
Jodel D-18 | 18" Balsa Kit
Ideal first low-wing, rubber-powered scale model | Includes glue and coloured tissue covering
✓ In stock
❌ Sorry! We're out of stock
You'll earn 0 reward points with this purchase.
AT A GLANCE
EAN: 702785155509
Wingspan: 18" (460mm)
Ease of build: Beginner
Flying skill: Intermediate
Power system: Rubber
Scale: 1:16
All up weight: 25g

JODEL D18 - A FUN FRENCH HOMEBUILT PLANE
The Jodel D18 is a two-seater, homebuilt light aircraft. Introduced in the mid 1980s and still available today, it is a derivative of the tiny Jodel D9 Bebe (Baby) that was designed by Eduard Joly and Jean Delemontez in 1948. Initially the D9 was only meant to be for their own flying fun, but the simple easy to build and robust design had customers including the French government wanting to buy it. The two men produced and licensed the aircraft and over the years more variants including the D18 were designed.
The most distinctive feature of the Jodel designs is the cranked wing and the D18 continues this tradition. This feature endows the aeroplane with stable and predictable flying characteristics, making it a very suitable candidate for a rubber powered free flight model. The Jodel Avions Company have never actually produced this aircraft, instead licences are sold to the homebuilder. Nearly all of the aircraft is made of wood, and power often comes from a converted VW air-cooled unit that is cheap and readily available for the builder, who would have to spend up to 2000 hours constructing their aircraft.
It is reported that around 500 licences have been sold, however being a homebuilt, it is likely that a good proportion of these have never actually taken to the air.
YOUR KIT
This kit is for building a traditionally constructed, rubber powered, free flight model of a Jodel D18. The kit is provided with the materials (other than paints) to complete the suggested authentic scheme of a yellow Jodel D18 that is registered in the UK.
This is a simple but striking scheme, but alternatively you can decide to do your own favourite or more complicated scheme if you wish. Construction of the model from this kit uses the traditional method of "stick and tissue", that consists of a built up balsa wood skeleton (framework), covered with a tissue skin. The balsa frameworks are built over a plan that is printed at the exact scale of the model, which is in essence a real engineering drawing. Power is provided by rubber strip motor that is wound up before flight.
Free flight means just that - once the model is launched, it is on its own. It must follow a predetermined flight path established when the model is initially adjusted for flight or "trimmed". This type of traditional building technique and flying requires a degree of patience and skill, but is extremely rewarding. Typically for a small model and in the spirit of the traditional kits, profiles are simplified and adjusted from the original and a relatively large propeller is used. This is done so that the model is light and stable enough to fly on its own, is simple in construction and can work with the rubber motor. These adjustments have been done with care and sensitivity so that the shape and spirit of the original aircraft is preserved as much as possible. Also in the spirit of the traditional kits, additional items required to build the model are things that can be found in the kitchen drawer or are easily available on the high street.
INCLUDED IN YOUR KIT
Three balsa sheets with precise laser cut parts and strip wood.
PVA glue for building the wooden frames.
One 150mm diameter plastic propeller.
One pre-bent motor hook and shaft.
Three low friction plastic nose bushings - one for the propeller and two for the undercarriage wheels.
One vacuum formed canopy and spinner.
Piano wire for the main undercarriage and tail wheel legs.
One motor peg (cocktail stick or toothpick).
Rubber motor strip.
Tissue to cover the model.
Parts reference sheet (W), full size summary plan sheet (X), scheme diagram sheet (Y) and scheme markings (Z) printed on lightweight paper.
JODEL ORIGINAL INSTRUCTION BOOKLET
Download a spare copy of the instruction booklet included in your kit here: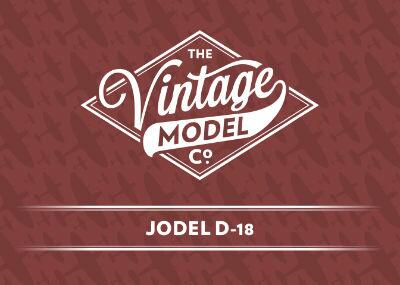 JODEL MARKINGS SHEET

Click the link below to download a pdf version of the markings sheet included in the Jodel D-18 kit.
The markings sheet should fit onto a single A4 page and may be printed onto your own paper or decal transfer sheet.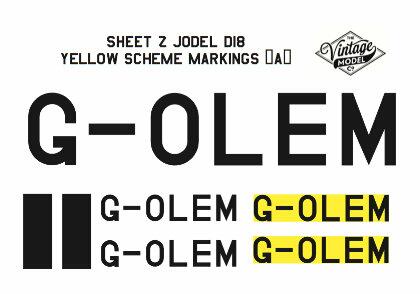 JODEL PATTERNS SHEET

Download a pdf version of the patterns for acetate and paper/card parts originally drawn on the plan.
This will save you from having to cut into your beautiful plan!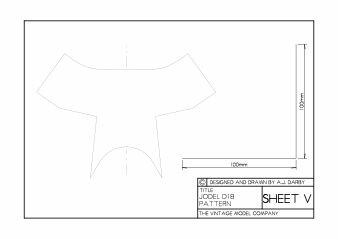 UK SHIPPING
Most orders are shipped via Royal Mail's Tracked 48 service.
For larger or heavier orders, we use UKMail/DHL to deliver your package on a Next Working Day service.
Shipping is free to UK Mainland addresses for orders over £30.00, otherwise we charge £6.00 for Royal Mail Tracked 48 parcels and £12.00 for UKMail/DHL Nest Working Day.
INTERNATIONAL SHIPPING
Smaller items
Items that fit within Royal Mail International Tracked Medium Parcel parameters (59cm x 17cm x 15cm weighing less than 2kg) can be sent to most countries outside the UK.
For example up to 3 of our smaller 18" wingspan kits can fit into one of these parcels.
A parcel like this currently costs around £14 to Europe and around £18 to send to the USA and will take up to 3 weeks to arrive. This is because Royal Mail hands over the parcel to the local Post Office service for your country who have to clear it through customs and then deliver it to you.
The Royal Mail tracking code also transfers over to the tracking for your country's postal service.
Larger items
For items that do not fit within Royal Mail International Tracked Medium Parcel parameters, we use standard international couriers such as DHL, FedEx and UPS.
These companies use something called volumetric weights to calculate the cost of shipping.
For example, a Balsa Basics RC bundle kit that measures 102cm x 34cm x 16cm and weighs 2.5 kg is actually calculated at 14kg!
This makes these very expensive to send outside the UK - a large kit can cost nearly £40 to send to France.
PRODUCT REVIEWS
I did an a RC conversion on the Jodel D-18. It was a great laser cut kit. Great instructions and bonus having the tissue and glue included. Great value even with shipping to US.
Beautiful fit of parts, great wood quality covered in esaki Hub covers from aspirin blister pack Thank you
Jodel kit arrived this morning Feb 24 in excellent condition. Lovely kit, great quality and sturdy box. One gets the impression that we are dealing with a company that treats customers well. Thank you and the kit arrived before my birthday (didn't think that was possible).
Haven't built one of these in 35 years; haven't built a model in about 20. What a delight compared with the kits I used to buy! Laser cutting is just brill! The design is properly thought out; the instructions are clear; the balsa is excellent and correctly graded. The model went together very easily. The only things I found a bit tricky were the coaming and the canopy. I hadn't before used the type of tissue supplied, so I got a few wrinkles, but that's lack of practise. Weighs all-up at 30g. Overall a lovely wee model which looks like it will fly well (just started trimming, and so far so good). I'm about to make a second purchase from VMC. Cheers!
Leave a review