Factory Seconds Osprey Sports Glider Balsa Kit
Factory Seconds Osprey Sports Glider Balsa Kit
Full kit with defects in the laser cut parts | Includes glue and coloured tissue
✓ In stock
❌ Sorry! We're out of stock
You'll earn 0 reward points with this purchase.
AT A GLANCE
Wingspan: 20" (505mm)
Ease of build: Beginner
Flying skill: Beginner
Power system: Glider
Scale: N/A
All up weight: 25g

FACTORY SECONDS OSPREY GLIDER
At VMC, absolute quality is highly important to us.
We thoroughly check each sheet of cut parts for unwanted artefacts from the laser cutting process and occasionally we find rejects.
What's wrong with them? Sometimes there is a slightly burned edge, sometimes the laser hasn't fully cut through a part.
It's all very trivial for the average modeller who can fashion the odd part from the balsa sheet offcuts.
It doesn't feel right to simply waste these parts by throwing them away, so instead we are offering them to those of you out there who don't mind having a few questionable parts and would rather have a big discount.
INCLUDED IN YOUR KIT
3 balsa sheets with precise laser cut parts and strip wood.(some or all of the sheets may have defects)
PVA glue for building the wooden frames.
Piano wire for making a tow hook (if desired).
Dowel for the wing fixings and tail plane fixings.
Rubber bands to hold the wings and tail plane in position.
Piece of clear acetate for the windows and "trim tabs".
Tissue to cover the model.
Parts reference sheet (W) and full size summary plan sheet (X).
OSPREY ORIGINAL INSTRUCTION BOOKLET
Download a spare copy of the instruction booklet included in your kit here: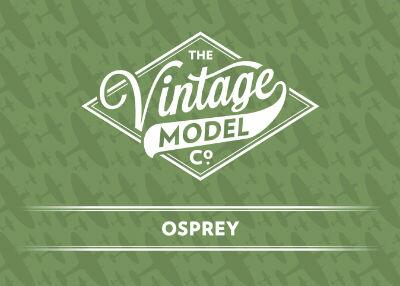 OSPREY PATTERN SHEET

Download a pdf version of the patterns for acetate and paper/card parts originally drawn on the plan.
This will save you from having to cut into your beautiful plan!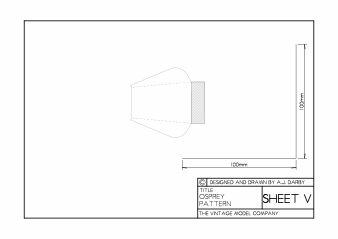 UK SHIPPING
Most orders are shipped via Royal Mail's Tracked 48 service.
For larger or heavier orders, we use UKMail/DHL to deliver your package on a Next Working Day service.
Shipping is free to UK Mainland addresses for orders over £30.00, otherwise we charge £6.00 for Royal Mail Tracked 48 parcels and £12.00 for UKMail/DHL Nest Working Day.
INTERNATIONAL SHIPPING
Smaller items
Items that fit within Royal Mail International Tracked Medium Parcel parameters (59cm x 17cm x 15cm weighing less than 2kg) can be sent to most countries outside the UK.
For example up to 3 of our smaller 18" wingspan kits can fit into one of these parcels.
A parcel like this currently costs around £14 to Europe and around £18 to send to the USA and will take up to 3 weeks to arrive. This is because Royal Mail hands over the parcel to the local Post Office service for your country who have to clear it through customs and then deliver it to you.
The Royal Mail tracking code also transfers over to the tracking for your country's postal service.
Larger items
For items that do not fit within Royal Mail International Tracked Medium Parcel parameters, we use standard international couriers such as DHL, FedEx and UPS.
These companies use something called volumetric weights to calculate the cost of shipping.
For example, a Balsa Basics RC bundle kit that measures 102cm x 34cm x 16cm and weighs 2.5 kg is actually calculated at 14kg!
This makes these very expensive to send outside the UK - a large kit can cost nearly £40 to send to France.