Cessna Bird Dog | 21" Balsa Kit
Cessna Bird Dog | 21" Balsa Kit
Cessna Bird Dog | 21" Balsa Kit
Easy to build and fly US Marines Vietnam veteran | Rubber-powered | Includes glue and coloured tissue covering
✓ In stock
❌ Sorry! We're out of stock
You'll earn 0 reward points with this purchase.
AT A GLANCE
EAN: 702785155905
Wingspan: 21" (535mm)
Ease of build: Beginner
Flying skill: Beginner
Power system: Rubber
Scale: 1:20
All up weight: 25g

CESSNA BIRD DOG - THE LITTLE 'PLANE THAT WENT TO WAR
Following on from the Second World War, the U.S. Army sought to source a more robust and durable liaison aircraft than they had used previously, specifying an all metal construction and better overall performance than the typical fabric over wood of its forebears. Cessna took up this challenge and in 1949 the model 305A first flew. The efficient design incorporated a cabin with a very large, all-round glazed area with distinctive sloping side windows, allowing the crew to see downwards more easily.
If flown economically, it is claimed that the 305A could stay airborne for up to 5 hours. These qualities made it an effective aircraft for spotter duties and for circling over the enemy while directing fire. This led to it being nicknamed Bird Dog, as it served much like the dog of a hunter. The short take-off and landing capabilities allowed it to take off from hastily prepared strips, making it ideal for medical evacuation duties amongst a multitude of other tasks. The U.S. Army and the U.S. Marine Corps took delivery of these aircraft in 1950, designated the L-19 and OE-1 respectively. They served with great success in the Korean War.
This tough, agile little aircraft continued service into the Vietnam war - now designated the O-1. It was also taken up by the US Air Force as a forward air control aircraft, the object of which was to direct fast attack aircraft to the target. The pilots that flew this smallest and simplest of warbirds were indeed brave - shooting at one would not have been difficult. However, losses were far less than may have been feared, simply because by shooting at the Bird Dog, the enemy would give away their position. Nearly 3500 aircraft were built, mainly by Cessna, but also in small numbers by contractors in both the United States and Japan. After their military service, many were sold on as recreational aircraft. They found a particular use as glider and advertising banner tow aircraft.
Today a large number of these aircraft are still airworthy – testament to their resilience, but many can also be seen on static display in museums in the many countries that operated them.
YOUR KIT
This kit is designed for you to build a traditionally constructed, rubber-powered, free flight model of an OE-1 Cessna Bird Dog, operated by the U.S. Marines Observation and Reconnaissance Squadron VMO-2, stationed in Japan in around 1952. This is a simple but striking scheme, however, you can decide to do your own favourite or more complicated scheme if you wish as there are many Bird Dog schemes to choose from.
Construction of the model from this kit uses the traditional method of "stick and tissue", that consists of a built up balsa wood skeleton (framework), covered with a tissue skin. The balsa frameworks are built over a plan that is printed at the exact scale of the model, which is in essence a real engineering drawing. Power is provided by rubber strip motor that is wound up before flight.
Free flight means just that - once the model is launched, it is on its own. It must follow a predetermined flight path established when the model is initially adjusted for flight or "trimmed". This type of traditional building technique and flying requires a degree of patience and skill, but is extremely rewarding. Typically for a small model and in the spirit of the traditional kits, profiles are simplified and adjusted from the original and a relatively large propeller is used. This is done so that the model is light and stable enough to fly on its own, is simple in construction and can work with the rubber motor. These adjustments have been done with care and sensitivity so that the shape and spirit of the original aircraft is preserved as much as possible. Also in the spirit of the traditional kits, additional items required to build the model are things that can be found in the kitchen drawer or are easily available on the high street.
INCLUDED IN YOUR KIT
Three balsa sheets with precise laser cut parts and strip wood.
PVA glue for building the wooden frames.
One 150mm diameter plastic propeller.
One pre-bent motor hook and shaft.
Three low friction plastic 'nose' bushings– one for the propeller and two for the undercarriage wheels.
Piano wire for the main undercarriage legs and tail wheel.
A motor peg (cocktail stick /toothpick).
Rubber motor strip.
A piece of clear acetate for the windows and "trim tabs".
Tissue to cover the model (green plus a small piece of black).
Parts reference sheets (W), full size summary plan sheets (X), scheme diagram sheet (Y) and scheme markings (Z) printed on lightweight paper.
CESSNA BIRD DOG ORIGINAL INSTRUCTION BOOKLET
Download a spare copy of the instruction booklet included in your kit here: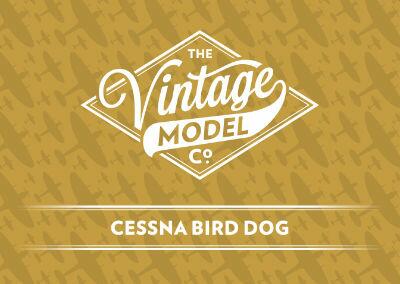 CESSNA BIRD DOG MARKINGS SHEET

Click the link below to download a pdf version of the markings sheet included in the Cessna Bird Dog kit.
The markings sheet should fit onto a single A4 page and may be printed onto your own paper or decal transfer sheet.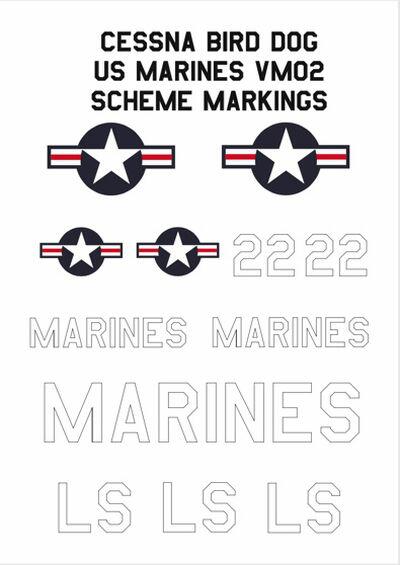 CESSNA BIRD DOG PATTERNS SHEET

Download a pdf version of the patterns for acetate and paper/card parts originally drawn on the plan.
This will save you from having to cut into your beautiful plan!
UK SHIPPING
Most orders are shipped via Royal Mail's Tracked 48 service.
For larger or heavier orders, we use UKMail/DHL to deliver your package on a Next Working Day service.
Shipping is free to UK Mainland addresses for orders over £30.00, otherwise we charge £6.00 for Royal Mail Tracked 48 parcels and £12.00 for UKMail/DHL Nest Working Day.
INTERNATIONAL SHIPPING
Smaller items
Items that fit within Royal Mail International Tracked Medium Parcel parameters (59cm x 17cm x 15cm weighing less than 2kg) can be sent to most countries outside the UK.
For example up to 3 of our smaller 18" wingspan kits can fit into one of these parcels.
A parcel like this currently costs around £14 to Europe and around £18 to send to the USA and will take up to 3 weeks to arrive. This is because Royal Mail hands over the parcel to the local Post Office service for your country who have to clear it through customs and then deliver it to you.
The Royal Mail tracking code also transfers over to the tracking for your country's postal service.
Larger items
For items that do not fit within Royal Mail International Tracked Medium Parcel parameters, we use standard international couriers such as DHL, FedEx and UPS.
These companies use something called volumetric weights to calculate the cost of shipping.
For example, a Balsa Basics RC bundle kit that measures 102cm x 34cm x 16cm and weighs 2.5 kg is actually calculated at 14kg!
This makes these very expensive to send outside the UK - a large kit can cost nearly £40 to send to France.
PRODUCT REVIEWS
Great kit, well thought out easy to build and well worth the money, I built the whole thing stock using only the things provided in the box and very happy with the result. Havent flown it yet,but first glides are looking very promising.It came out light and very well balanced only needing a pea-sized lump of clay in one of the air intakes to balance it. Tip for building this though, make sure you separate the light and heavy stringers as once cut from the board there easy to get mixed up
Having been building balsa models for over 50 years I cut my teeth on the old Keil Kraft and Veron small scale model kits, building most of them, despite a distinct lack of success getting any of them to fly! I see the Magnificent Flying Machine range as the modern successor to those old designs, but with an enormous step up in terms of quality and a much greater chance of success for the beginner to the hobby. I needed to quickly build a new model to enter in the kit scale class for an indoor contest in the Netherlands so chose the Bird Dog, as I had seen the prototype flying superbly at the 2019 BMFA Indoor Scale Nats. I have to say the kit was a real pleasure to build – the fit of parts was great and the quality of the wood top notch. I was able to complete the model in just 17 days from the postman delivering it, and quite a lot of that time was painting and detailing (I couldn't resit adding a few extra details to give the model more character). I'm really pleased with the way the model turned out - the Bird Dog is a pretty aircraft, and the kit really does it justice. I'll report back on the model's flying abilities when I get it trimmed out, but I don't foresee any problems.
Leave a review