Messerschmitt Bf-109 | 18" Balsa Kit
Messerschmitt Bf-109 | 18" Balsa Kit
Messerschmitt Bf-109 | 18" Balsa Kit
Flying scale model of the Spitfire's nemesis | Rubber-powered | Includes glue and two-coloured tissue covering
✓ In stock
❌ Sorry! We're out of stock
You'll earn 0 reward points with this purchase.
AT A GLANCE
EAN: 702785155493
Wingspan: 18" (460mm)
Ease of build: Intermediate
Flying skill: Intermediate
Power system: Rubber
Scale: 1:22
All up weight: 25g

THE MESSERSCHMITT BF109- A MENACING MACHINE
The Messerschmitt BF109 (often called the ME109) was designed by Willy Messerschmitt and Robert Lusser of Bayerische Flugzeugwerke (BFW) - later to become Messerschmitt AG. The aircraft first flew in 1935 ironically powered by a Rolls Royce Kestrel engine as the intended Jumo engine was not ready. It was designed specifically to take part in a Luftwaffe competition to select a new fighter aircraft as Germany rearmed in contravention of the treaty of Versailles.
Technically advanced, it won the competition by some margin; it would take Focke Wulf, one of the rival companies, until 1941 to catch up and arguably surpass the ME109 with the Focke Wulf 190. The all metal monocoque design had many innovative features including two large magnesium alloy forgings that held the engine and the undercarriage, meaning that the lightly constructed wings did not have to carry landing loads and could easily be removed for transport or repair. This feature, although efficient, left the undercarriage with a distinctive narrow "splayed" track, resulting in poor stability whilst landing and taxiing, killing or injuring many German pilots.
The ME109 was continually developed during the entirety of the war with nearly 34,000 built, more than any other fighter in history.
YOUR KIT
This kit is designed for you to build a traditionally constructed, rubber powered, free flight model of a Daimler Benz powered ME109E (Emil). ME109Es were painted in a myriad of schemes, most of which were complicated and not in block colours and would be difficult to achieve with a rubber powered scale model such as this. Therefore, the kit is provided with the materials (other than paints) to complete a simple block colour scheme to capture the spirit of the aircraft as would have fought in The Battle of Britain. Alternatively, you can decide to do your own favourite or more complicated scheme if you wish.
Construction of the model from this kit uses the traditional method of "stick and tissue", that consists of a built up balsa wood skeleton (framework), covered with a tissue skin. The balsa frameworks are built over a plan that is printed at the exact scale of the model, which is in essence a real engineering drawing. Power is provided by rubber strip motor that is wound up before flight.
Free flight means just that - once the model is launched, it is on its own. It must follow a predetermined flight path established when the model is initially adjusted for flight or "trimmed". This type of traditional building technique and flying requires a degree of patience and skill, but is extremely rewarding. Typically for a small model and in the spirit of the traditional kits, profiles are simplified and adjusted from the original and a relatively large propeller is used. This is done so that the model is light and stable enough to fly on its own, is simple in construction and can work with the rubber motor. These adjustments have been done with care and sensitivity so that the shape and spirit of the original aircraft is preserved as much as possible. Also in the spirit of the traditional kits, additional items required to build the model are things that can be found in the kitchen drawer or are easily available on the high street.
INCLUDED IN YOUR KIT
Three balsa sheets with precise laser cut parts and strip wood.
PVA glue for building the wooden frames.
One 150mm diameter plastic propeller.
One pre-bent motor hook and shaft.
Three low friction plastic nose bushings - one for the propeller and two for the undercarriage wheels.
One vacuum formed canopy and spinner.
Piano wire for the main undercarriage and tail wheel legs.
One motor peg (cocktail stick or toothpick).
Rubber motor strip.
Tissue to cover the model.
Parts reference sheet (W), full size summary plan sheet (X), scheme diagram sheet (Y) and scheme markings (Z) printed on lightweight paper.
Only Suitable For Ages 14+
Choking Hazard - Contains small parts, keep out of reach of children.
ME-109 ORIGINAL INSTRUCTION BOOKLET
Download a spare copy of the instruction booklet included in your kit here: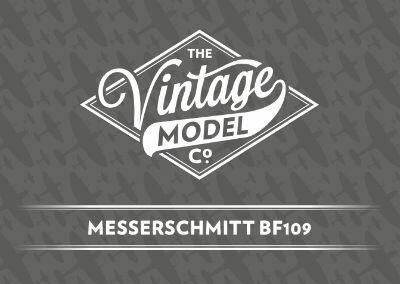 ME-109 MARKINGS SHEET

Click the link below to download a pdf version of the markings sheet included in the ME-109 kit.
The markings sheet should fit onto a single A4 page and may be printed onto your own paper or decal transfer sheet.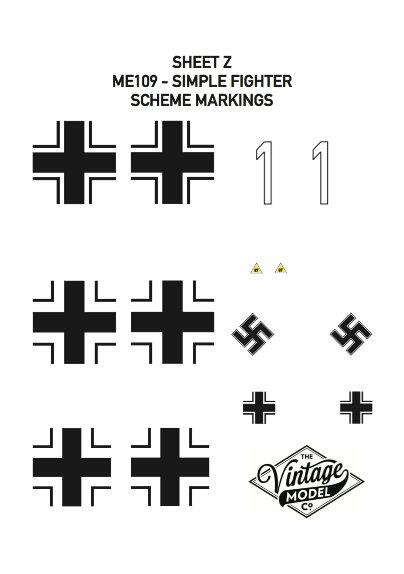 ME-109 PATTERNS SHEET

Download a pdf version of the patterns for acetate and paper/card parts originally drawn on the plan.
This will save you from having to cut into your beautiful plan!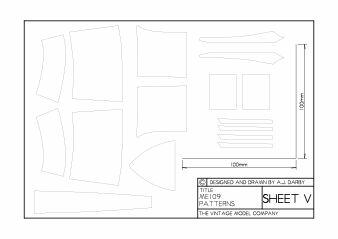 UK SHIPPING
Most orders are shipped via Royal Mail's Tracked 48 service.
For larger or heavier orders, we use UKMail/DHL to deliver your package on a Next Working Day service.
Shipping is free to UK Mainland addresses for orders over £30.00, otherwise we charge £6.00 for Royal Mail Tracked 48 parcels and £12.00 for UKMail/DHL Nest Working Day.
INTERNATIONAL SHIPPING
Smaller items
Items that fit within Royal Mail International Tracked Medium Parcel parameters (59cm x 17cm x 15cm weighing less than 2kg) can be sent to most countries outside the UK.
For example up to 3 of our smaller 18" wingspan kits can fit into one of these parcels.
A parcel like this currently costs around £14 to Europe and around £18 to send to the USA and will take up to 3 weeks to arrive. This is because Royal Mail hands over the parcel to the local Post Office service for your country who have to clear it through customs and then deliver it to you.
The Royal Mail tracking code also transfers over to the tracking for your country's postal service.
Larger items
For items that do not fit within Royal Mail International Tracked Medium Parcel parameters, we use standard international couriers such as DHL, FedEx and UPS.
These companies use something called volumetric weights to calculate the cost of shipping.
For example, a Balsa Basics RC bundle kit that measures 102cm x 34cm x 16cm and weighs 2.5 kg is actually calculated at 14kg!
This makes these very expensive to send outside the UK - a large kit can cost nearly £40 to send to France.
PRODUCT REVIEWS
Quite a straightforward build, really good for a beginner but still very enjoyable and rewarding. Still some sanding and shaping needed to get good results, but that's one of my favourite parts. I prefer keeping the preformed plastic to a minimum! Build and covering aren't too tricky, and with a little care and thought you get a great looking plane. I never try flying mine (tried once, smashed plane, rebuilt plane, stopped flying!) but I have no doubt this would fly well. Without really trying mine came out incredibly lightweight, but perfectly balanced and very robust. Without adding anything the kit comes out looking great.
I'm 55 years old and I was bought this model for Christmas. It languished unopened for almost a year, till I decided to have a go. I didn't think it had a Dodo's chance of flying, so I concentrated on making it look as good as I could. It took a while but I finished it, adding a few extra scale details: pilot, rear view mirror, aerial mast, etc. The real shock came when I hoiked it into the air. No, it didn't fly off the bat, but it was clear that the wings were generating lift, and that meant that it could fly...! I then spent hours gently test gliding it over long grass, adjusting weights, till I was satisfied that it could look after itself. Then I started winding up the motor. I am new to this, so progress was slow, but I have enjoyed many twenty-second flights - though their profile left a lot to be desired. However, as I have improved and modified the plane (and repaired it), I have had a beautiful curving 21-second flight where the transitions between the climb, the cruise and the glide were pretty darned good. If only it had glided as well as it normally does it would have been a much longer flight... I have now modified it, again, and will start retrimming it, once more, in my attempts to beat that 30 barrier. This is an excellent, well-made and explained model. The only reason I have not given it 5 stars is that I think VMC could supply more info - perhaps on their website - as to the trimming and flying of these models. It would be great to see what an expert can do with one of these! At some point, I will revisit this model, it is full of potential and looks GREAT in the air!
Leave a review