Tiger Moth | 18" Balsa Kit
Tiger Moth | 18" Balsa Kit
Tiger Moth | 18" Balsa Kit
Build and fly the famous Tiggy | Rubber-powered | Includes glue and yellow tissue covering
✓ In stock
❌ Sorry! We're out of stock
You'll earn 0 reward points with this purchase.
AT A GLANCE
EAN: 702785155554
Wingspan: 18" (460mm)
Ease of build: Intermediate
Flying skill: Intermediate
Control type: Free-flight
Power system: Rubber
Scale: 1:19
All up weight: 25g

DE HAVILLAND TIGER MOTH- THE AIRCRAFT THAT GAVE CHURCHILL'S FEW THEIR WINGS
In the early 1930s the British Air Ministry issued a specification for a new trainer aircraft for the RAF. The RAF themselves were quite keen on the DH.60 Gypsy Moth due to its excellent handling characteristics and low running costs, but it fell short of the specification due to the position of the wings relative to the front cockpit which did not allow the pilot to easily bail out. Determined to win the order, de Havilland took a Gypsy Moth aside and had the top wings moved forward to meet the specification. However, this resulted in the balance of the aircraft being affected, so both sets of wings were swept back and when that wasn't quite enough, the top wings were swept back a little further. It then became clear that the sweep had reduced the ground clearance of the lower wings and so the inter-plane struts were shortened and the dihedral of the bottom wing increased. Whether by accident or design, all of these changes made the DH.82 Tiger Moth an excellent training aircraft - often summarised by the phrase "easy to fly, but difficult to fly well". This meant that it was safe in the hands of a novice but helped instructors weed out weaker pilots.
The RAF began using the aircraft in 1932 and it was not replaced until 1952, meaning the vast majority of RAF and Commonwealth pilots that served in the Second World War, first took to the air in a Tiger Moth. Nearly 9000 Tiger Moths were built and many were sold as surplus after the war with the result that a great number survive to this day in the hands of pleasure flight companies and within a community of dedicated enthusiasts.
YOUR KIT
This kit is designed for you to build a traditionally constructed, rubber powered, free flight model of a DH.82A Tiger Moth. The kit includes the materials (other than paints) to complete the suggested authentic scheme of a yellow Royal Australian Air Force Tiger Moth. This is a simple but striking scheme, but you can decide to do your own favourite or more complicated scheme if you wish. This particular aircraft was privately imported into Australia in 1936 and pressed into service for the RAAF at the Temora Elementary Flying Training School in 1940. Having left service after the war, it was eventually donated to the Temora Aviation museum where it is now based.
Construction of the model from this kit uses the traditional method of "stick and tissue", that consists of a built up balsa wood skeleton (framework), covered with a tissue skin. The balsa frameworks are built over a plan that is printed at the exact scale of the model, which is in essence a real engineering drawing. Power is provided by rubber strip motor that is wound up before flight. Free flight means just that - once the model is launched, it is on its own. It must follow a predetermined flight path established when the model is initially adjusted for flight or "trimmed". This type of traditional building technique and flying requires a degree of patience and skill, but is extremely rewarding. Typically for a small model and in the spirit of the traditional kits, profiles are simplified and adjusted from the original and a relatively large propeller is used. This is done so that the model is light and stable enough to fly on its own, is simple in construction and can work with the rubber motor. These adjustments have been done with care and sensitivity so that the shape and spirit of the original aircraft is preserved as much as possible. Also in the spirit of the traditional kits, additional items required to build the model are things that can be found in the kitchen drawer or are easily available on the high street.
INCLUDED IN YOUR KIT
Four balsa sheets with precise laser cut parts and strip wood.
PVA glue for building the wooden frames.
One 150mm diameter plastic propeller.
One pre-bent motor hook and shaft.
Small piece of acetate sheet for the screens
Three low friction plastic nose bushings - one for the propeller and two for the undercarriage wheels.
Piano wire for the main undercarriage and tail wheel legs. One motor peg (cocktail stick or toothpick).
Rubber motor strip.
Tissue to cover the model.
Parts reference sheets (W), full size summary plan sheets (X), scheme diagram sheet (Y) and scheme markings (Z) printed on lightweight paper.
Only Suitable For Ages 14+
Choking Hazard - Contains small parts, keep out of reach of children.
TIGER MOTH ORIGINAL INSTRUCTION BOOKLET
Download a spare copy of the instruction booklet included in your kit here: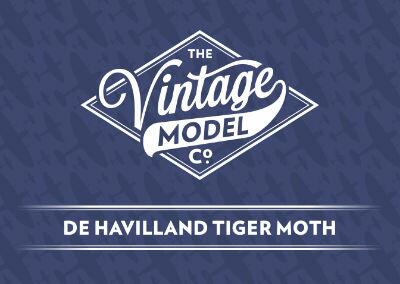 TIGER MOTH MARKINGS SHEET

Click the link below to download a pdf version of the markings sheet included in the Tiger Moth kit.
The markings sheet should fit onto a single A4 page and may be printed onto your own paper or decal transfer sheet.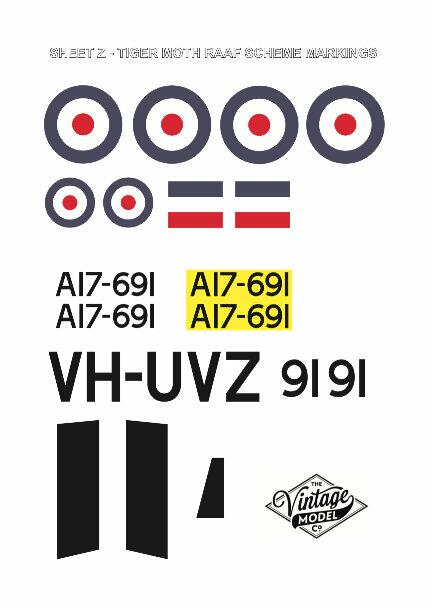 TIGER MOTH PATTERNS SHEET

Download a pdf version of the patterns for acetate and paper/card parts originally drawn on the plan.
This will save you from having to cut into your beautiful plan!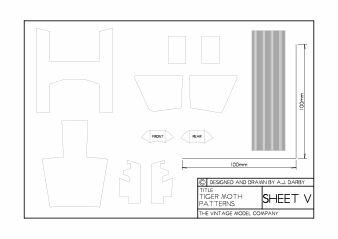 UK SHIPPING
Most orders are shipped via Royal Mail's Tracked 48 service.
For larger or heavier orders, we use UKMail/DHL to deliver your package on a Next Working Day service.
Shipping is free to UK Mainland addresses for orders over £30.00, otherwise we charge £6.00 for Royal Mail Tracked 48 parcels and £12.00 for UKMail/DHL Nest Working Day.
INTERNATIONAL SHIPPING
Smaller items
Items that fit within Royal Mail International Tracked Medium Parcel parameters (59cm x 17cm x 15cm weighing less than 2kg) can be sent to most countries outside the UK.
For example up to 3 of our smaller 18" wingspan kits can fit into one of these parcels.
A parcel like this currently costs around £14 to Europe and around £18 to send to the USA and will take up to 3 weeks to arrive. This is because Royal Mail hands over the parcel to the local Post Office service for your country who have to clear it through customs and then deliver it to you.
The Royal Mail tracking code also transfers over to the tracking for your country's postal service.
Larger items
For items that do not fit within Royal Mail International Tracked Medium Parcel parameters, we use standard international couriers such as DHL, FedEx and UPS.
These companies use something called volumetric weights to calculate the cost of shipping.
For example, a Balsa Basics RC bundle kit that measures 102cm x 34cm x 16cm and weighs 2.5 kg is actually calculated at 14kg!
This makes these very expensive to send outside the UK - a large kit can cost nearly £40 to send to France.
PRODUCT REVIEWS
My earlier review appeared with only one star?? Don't know how as I thought I had given it 5 stars. I probably hit the one by mistake as that was my first review of a build so I want to correct that error. Am now about to order my next project build from VMC.
This is my third VMC build after more years than I can remember when I never finished anything before, not even reached covering stage as time, family, etc took control! However, after 81 summers and in retirement I finally got the urge after my great grandson was born and my mind turned to a plane as a kiddies "mobile" attached to his bedroom ceiling? Searching the web I found VMC and I have never looked back. A Spitfire and a Cessner (for me to practice and learn from my mistakes) are now on his ceiling so this big kid is about to cover a Tiger Moth. A good build that I have really enjoyed together with reassuring glances at Rod Brennan's excellent builds on YouTube as I have found some small areas of plans a little difficult to follow as a "Newbie". If you have not found Rod's videos here is a link to the Tiger Moth build https://www.youtube.com/watch?v=3BA6lCODaIs&t=3s Rod has covered numerous VMC planes and they are well worth watching. Anyway, thanks VMC you have given me back my childhood and I may even get this one to fly!!
This was my second VMC kit from this range (first was the SE5A) and I was not disappointed. Everything has been so well thought out that it all goes together very neatly. It really looks like a Tiggie too. Haven't tried mine indoors yet, but an early outdoor trimming flight can be seen here: https://www.youtube.com/watch?v=mhiPdWGK69M
My fourth VMC model and I haven't been disappointed. It took me fair while, on and off over a couple of months. As usual, the kit was excellent, and the instructions were very clear (I just need to read them more carefully). A lovely, graceful little aircraft - needs a little nose weight, but glides beautifully. I don't want to prang it so it's hanging up with the others. Maybe I'll bite the bullet one fine day and give them some flying time. I'd like some guidance about the rubber motor in the instructions. I just make a single loop of elastic. Thanks once again!
I entered the Japanese shipping address, but it says change the address. It cannot be purchased from Japan.
I really enjoyed building this model. Instructions and diagrams are good. Laser cut is great. Good value for money.
I have built a fair few VMC kits, and I've got to say I had the most fun building this kit. The tiger moth is a strange kit and doesn't really come together until the final stages of construction. Some parts of this kit are a bit fiddly and really need to be taken slowly such as the undercarriage and the paper cowling at the front. But its time well spent as these parts really set the model off. I think this is a great kit for those who have done a few kits like this and are looking for a bit more of a challenge I've not had chance to test fly this outdoors, but from my brief tests indoors (into a pile of pillows) it has a nice glide to it with just a bit of a stall so will need a tad of nose weight. I look forward to flying this when the dry weather comes around. But another great kit from the folks at VMC.
Easy model to build, hard model to build well
A fairly tricky build but made easier by the really accurate plans and laser cut balsa. Very rewarding when you get it right. A very enjoyable build.
Leave a review