Supermarine Spitfire Mk.VB | 18" Balsa Kit
Supermarine Spitfire Mk.VB | 18" Balsa Kit
Supermarine Spitfire Mk.VB | 18" Balsa Kit
Build and fly the legendary WWII fighter | Rubber-powered | Includes glue and white covering tissue
✓ In stock
❌ Sorry! We're out of stock
You'll earn 0 reward points with this purchase.
AT A GLANCE
EAN: 702785155479
Wingspan: 18" (460mm)
Ease of build: Intermediate
Flying skill: Intermediate
Control type: Free-flight
Power system: Rubber
Scale: 1:24
All up weight: 25g

SUPERMARINE SPITFIRE - THE ONE AND ONLY
The Spitfire was designed by Reginald Mitchell of The Supermarine Aviation Works and is arguably the most elegant but deadly aircraft of World War 2. The beautiful fuselage curves, the distinctive elliptical wings, plus its legendary service in action, make it one of the most recognisable and loved aircraft in the world. The prototype first flew from Eastleigh Aerodrome, near Southampton, England in March 1936.
The Spitfire was an advanced aircraft when first designed and unlike its similarly Merlin-engined stablemate the Hawker Hurricane, used new complicated monocoque construction techniques. As a result of these complexities and production difficulties at Supermarine, the move from prototype to full production was slow and problematic. However, once this was overcome, the Spitfire was produced in huge numbers. This is in part due to the more advanced initial design, which was able to be constantly developed and improved to increase performance, ironically the very thing that hindered it in the early days.
Production only ceased in 1948, making it the only allied aircraft to be manufactured for the entirety of the war.
YOUR KIT
This kit is designed for you to build a traditionally constructed, rubber powered, free flight model of a Spitfire. The kit includes the materials (other than paints) to complete a spitfire with plain white covering, so you can decide to do your own favourite scheme.
Construction of the model from this kit uses the traditional method of "stick and tissue", that consists of a built up balsa wood skeleton (framework), covered with a tissue skin. The balsa frameworks are built over a plan that is printed at the exact scale of the model, which is in essence a real engineering drawing. Power is provided by rubber strip motor that is wound up before flight.
Free flight means just that - once the model is launched, it is on its own. It must follow a predetermined flight path established when the model is initially adjusted for flight or "trimmed". This type of traditional building technique and flying requires a degree of patience and skill, but is extremely rewarding. Typically for a small model and in the spirit of the traditional kits, profiles are simplified and adjusted from the original and a relatively large propeller is used. This is done so that the model is light and stable enough to fly on its own, is simple in construction and can work with the rubber motor. These adjustments have been done with care and sensitivity so that the shape and spirit of the original aircraft is preserved as much as possible.
Also in the spirit of the traditional kits, additional items required to build the model are things that can be found in the kitchen drawer or are easily available on the high street.
INCLUDED IN YOUR KIT
Three balsa sheets with precise laser cut parts and strip wood.
PVA glue for building the wooden frames.
One 150mm diameter plastic propeller.
One pre-bent motor hook and shaft.
Three low friction plastic nose bushings - one for the propeller and two for the undercarriage wheels.
One vacuum formed canopy and spinner.
Piano wire for the main undercarriage and tail wheel legs.
One motor peg (cocktail stick or toothpick).
Rubber motor strip.
Tissue to cover the model.
Parts reference sheet (W), full size summary plan sheet (X), scheme diagram sheet (Y) and scheme markings (Z) printed on lightweight paper.
Only Suitable For Ages 14+
Choking Hazard - Contains small parts, keep out of reach of children.
SPITFIRE ORIGINAL INSTRUCTION BOOKLET
Download a spare copy of the instruction booklet included in your kit here: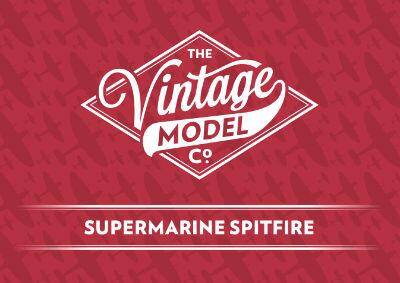 SPITFIRE MARKINGS SHEET

Click the link below to download a pdf version of the markings sheet included in the Spitfire kit.
The markings sheet should fit onto a single A4 page and may be printed onto your own paper or decal transfer sheet.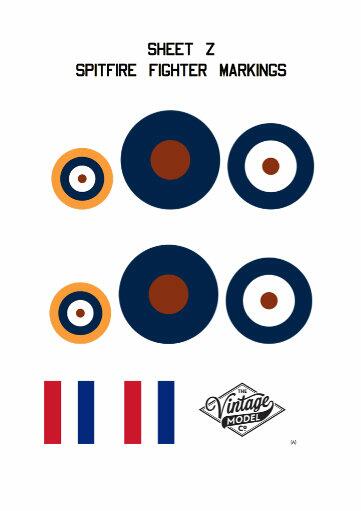 SPITFIRE PATTERNS SHEET

Download a pdf version of the patterns for acetate and paper/card parts originally drawn on the plan.
This will save you from having to cut into your beautiful plan!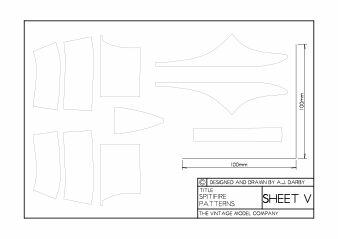 UK SHIPPING
Most orders are shipped via Royal Mail's Tracked 48 service.
For larger or heavier orders, we use UKMail/DHL to deliver your package on a Next Working Day service.
Shipping is free to UK Mainland addresses for orders over £30.00, otherwise we charge £6.00 for Royal Mail Tracked 48 parcels and £12.00 for UKMail/DHL Nest Working Day.
INTERNATIONAL SHIPPING
Smaller items
Items that fit within Royal Mail International Tracked Medium Parcel parameters (59cm x 17cm x 15cm weighing less than 2kg) can be sent to most countries outside the UK.
For example up to 3 of our smaller 18" wingspan kits can fit into one of these parcels.
A parcel like this currently costs around £14 to Europe and around £18 to send to the USA and will take up to 3 weeks to arrive. This is because Royal Mail hands over the parcel to the local Post Office service for your country who have to clear it through customs and then deliver it to you.
The Royal Mail tracking code also transfers over to the tracking for your country's postal service.
Larger items
For items that do not fit within Royal Mail International Tracked Medium Parcel parameters, we use standard international couriers such as DHL, FedEx and UPS.
These companies use something called volumetric weights to calculate the cost of shipping.
For example, a Balsa Basics RC bundle kit that measures 102cm x 34cm x 16cm and weighs 2.5 kg is actually calculated at 14kg!
This makes these very expensive to send outside the UK - a large kit can cost nearly £40 to send to France.
PRODUCT REVIEWS
When I was six years old, I was given a partially completed KeilKaft Spitfire kit which the boy next door had received for a birthday present but couldn't finish. I took over the building of it and my little Spitfire finally took to the air. I then built many of the KeilKaft kits, which were wonderful, and also a lot of the Aeromodeller magazine plan designs. I have loved aeroplanes ever since and went on to join BOAC in 1970 flying the Standard and Super VC-10. They were both great aeroplanes, but the Super VC 10 was just fantastic to fly. When the VC 10 fleet closed down in 1980, I flew the Boeing 757 for a while and the Boeing 747-100, 747-200 and 747-400 all over the world before retiring in 2000. The 757 was rather like flying a light aeroplane but the 747 iwas much more satisfying. It's really nice to see the KeilKaft kits being sold again as they required real skill to fly and build. They were extremely satisfying and gave me years of pleasure when I was at school and a wonderful career.
This model is does not seem suitable for a beginner or a 14 year old child as advertised. It is far too intricate.
This is the second Vintage Model Company kit I built (the Tiger Moth was the first one). VERY easy to build and a fantastic flyer. I have flown it well over 100 times (and rebuilt it plenty of times as well!) It looks great in the air and is a real head turner!
After a brief break of about 40 years I had the taste for blood... I started with your Supermarine Spitfire MK.VB . Wow, what a great kit. Things have come a long way since the printed balsa sheets. The balsa was perfectly cut and very easy to to release each piece. Also simple to find each part with the help of the drawings. The instructions were very detailed and easy to follow. The best part was the covering. The day that I was due to start covering the skeleton I received a big delivery box from Zara the clothes company. I had ordered a Pea Coat (like a donkey Jacket) and it was from their Army Surplus range. Why am I telling you this? Well, the coat arrived wrapped in a camouflage tissue paper and after a quick test, I used the tissue to cover the plane. The result is absolutely stunning!. Too scared to fly the thing as I don't want it to crash. Anyway, the best part is the making. Just ordered the Sopwith Triplane and some olive green tissue. I'm sitting by the letter box with anticipation. Thanks for such a superb range at very reasonable prices.
Really enjoyed building this. Very well thought-through design, kit wood excellent, laser-cutting spot on, etc. Although not really a beginner's kit in my opinion (there are inherent constructional complexities in such an accurate model of an interceptor fighter of the 40's, neither is such a subject going to be as easy to trim for flight as a high-wing civilian monoplane), but an engaging build for someone with with a couple of beginner's models under their belt. I built mine slowly and carefully, and as light as possible, with the aim of achieving as realistic as possible indoor flights in gentle circles from takeoff to landing. If built 'wheels up' (ie without the undercarriage) this would also make a lovely outdoor model for days with little wind! Build light (the structure itself is easily strong enough), give it 3-4 degrees of right-thrust as well as the built-in down-thrust, add a good amount of nose-weight to ensure the model isn't in the slightest tail-heavy, and have huge fun!
Bought this after building a Sopwith triplane. It's much trickier but produces a fantastic model. I like the details (roundels, exhausts etc) and it is really well designed. I struggled with the spinner and have decided that me and superglue don't get on! Instead of following the plan and covering the front fuselage with printer paper, I copied the picture in the instruction booklet (also brilliant) and stuck with tissue. Also added 20mm cannon (cotton bud stick/laminated balsa) cos I wanted to. The wife wants me to build something else - apparently it keeps out of her way! Thanks
Leave a review