Sopwith Triplane | 18" Balsa Kit
Sopwith Triplane | 18" Balsa Kit
Sopwith Triplane | 18" Balsa Kit
Build and fly this rare British WW1 fighter | Rubber-powered | Includes glue and coloured tissue covering
✓ In stock
❌ Sorry! We're out of stock
You'll earn 0 reward points with this purchase.
AT A GLANCE
EAN: 702785155745
Wingspan: 18" (460mm)
Ease of build: Intermediate
Flying skill: Intermediate
Control type: Free-flight
Power system: Rubber
Scale: 1:18
All up weight: 30g

SOPWITH TRIPLANE - A MULTI-WINGED MARVEL
Sopwith's Chief Engineer, Herbert Smith, developed the Triplane on the orders of owner Thomas Sopwith as a private enterprise for a new scout (fighter) aircraft, with superior rates of climb, roll, and better all-round visibility than current designs. Smith believed that three staggered, narrow chord wings, set wide apart, each with its own set of ailerons would fit the bill. The prototype flew in May 1916 piloted by Sopwith test pilot Harry Hawker (later to form the Hawker Aircraft Company of Hurricane fame). Astonishingly for a maiden test flight, Hawker successfully looped the aircraft three times. Subsequent flights proved that Smith was right and that the "Tripehound" as many pilots came to know the aircraft, had far better rates of climb, manoeuvrability and visibility than any other domestic or enemy aircraft of the day (although this was tempered by slower dives than German aircraft of the same period).
Most Triplanes served with the Royal Naval Air Service (RNAS) where they proved to be excellent fighting machines, although their service was short lived. They were difficult to maintain in the field, and the pace of development at the time saw them overtaken quickly by better designs such as Sopwith's own Camel and the SE5A. Such was the German admiration for the performance of the basic design, that Anthony Fokker studied a crashed example and went on to use it as inspiration for what became the Fokker DR1 - the triplane flown by the infamous "Red Baron", Manfred Von Richthofen. Overall nearly 150 aircraft were built. Few original aircraft survive, none in airworthy condition, although a number of reproduction aircraft can be seen, the most famous being "Dixie II" at the Shuttleworth Collection based at the Old Warden Aerodrome, Bedfordshire, England.
YOUR KIT
This kit is designed for you to build a traditionally constructed, rubber-powered, free-flight model of a 1917 Triplane of No.1  Squadron RNAS. This is a simple but striking scheme, but you can decide to do your own favourite or more complicated scheme if you wish as there are many triplane schemes to choose from. The No.1 Squadron RNAS (latterly 201 Squadron RAF) flew Triplanes between December 1916 and December 1917 over the Western Front before being belatedly re-equipped with Sopwith Camels. 
Construction of the model from this kit uses the traditional method of 'stick and tissue', that consists of a built up balsa wood skeleton (framework), covered with a tissue skin. The balsa frameworks are built over a plan that is printed at the exact scale of the model, which is in essence a real engineering drawing.
Power is provided by rubber strip motor that is wound up before flight. Free flight means just that – once the model is launched, it is on its own. It must follow a predetermined flight path established when the model is initially adjusted for flight or 'trimmed'.  This type of traditional building technique and flying requires a degree of patience and skill, but is extremely rewarding.
The Sopwith Triplane is just one of a series of kits designed and manufactured by the Vintage Model Company. Aeromodelling was very popular from the 1950s until the 1980s and following a decline and the loss of UK manufacturers such as FROG, KeilKraft and Veron, a revival is now underway. The advent of modern technology such as laser cutting of parts and the growth of the internet giving access to information on the skills and techniques required to successfully build and fly these models, means new enthusiasts are discovering the joys of aeromodelling every day.
Typically for a small model and in the spirit of the traditional kits, profiles are simplified and adjusted from the original and a relatively large propeller is used. This is done so that the model is light and stable enough to fly on its own, is simple in construction and can work with the rubber motor. These adjustments have been done with care and sensitivity so that the shape and spirit of the original aircraft is preserved as much as possible. Also in the spirit of the traditional kits, additional items required to build the model are things that can be found in the kitchen drawer or are easily available on the high street.
INCLUDED IN YOUR KIT
Four balsa sheets with precise laser cut parts and strip wood.
PVA glue for building the wooden frames.
One 150mm diameter plastic propeller.
One pre-bent motor hook and shaft.
A 150mm long piece of 6.4mm diameter balsa dowel for the engine cylinders and gun details.
Three low friction plastic 'nose' bushings– one for the propeller and two for the undercarriage wheels.
Piano wire for the main undercarriage legs.
A matchstick for the tail skid.
Three cocktail sticks or toothpicks, one for the motor peg and the others for use in various details
Rubber motor strip.
Tissue to cover the model.
Parts reference sheets (W), full size summary plan sheets (X), scheme diagram sheet (Y) and scheme markings (Z) printed on lightweight paper.
Only Suitable For Ages 14+
Choking Hazard - Contains small parts, keep out of reach of children.
SOPWITH TRIPLANE ORIGINAL INSTRUCTION BOOKLET
Download a spare copy of the instruction booklet included in your kit here: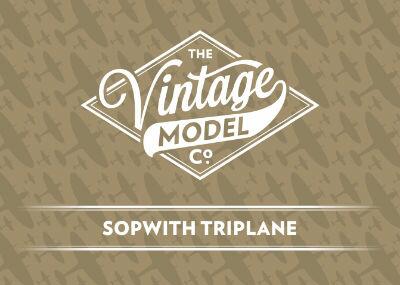 SOPWITH TRIPLANE MARKINGS SHEET

Click the link below to download a pdf version of the markings sheet included in the Sopwith Triplane kit.
The markings sheet should fit onto a single A4 page and may be printed onto your own paper or decal transfer sheet.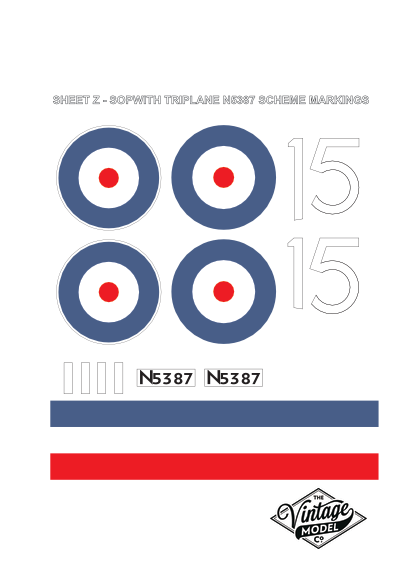 SOPWITH TRIPLANE PATTERNS SHEET

Download a pdf version of the patterns for acetate and paper/card parts originally drawn on the plan.
This will save you from having to cut into your beautiful plan!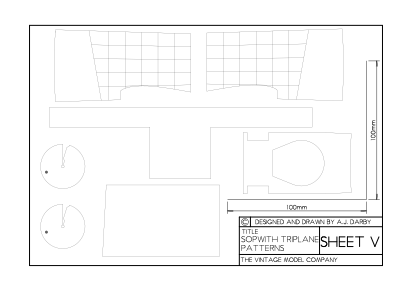 UK SHIPPING
Most orders are shipped via Royal Mail's Tracked 48 service.
For larger or heavier orders, we use UKMail/DHL to deliver your package on a Next Working Day service.
Shipping is free to UK Mainland addresses for orders over £30.00, otherwise we charge £6.00 for Royal Mail Tracked 48 parcels and £12.00 for UKMail/DHL Nest Working Day.
INTERNATIONAL SHIPPING
Smaller items
Items that fit within Royal Mail International Tracked Medium Parcel parameters (59cm x 17cm x 15cm weighing less than 2kg) can be sent to most countries outside the UK.
For example up to 3 of our smaller 18" wingspan kits can fit into one of these parcels.
A parcel like this currently costs around £14 to Europe and around £18 to send to the USA and will take up to 3 weeks to arrive. This is because Royal Mail hands over the parcel to the local Post Office service for your country who have to clear it through customs and then deliver it to you.
The Royal Mail tracking code also transfers over to the tracking for your country's postal service.
Larger items
For items that do not fit within Royal Mail International Tracked Medium Parcel parameters, we use standard international couriers such as DHL, FedEx and UPS.
These companies use something called volumetric weights to calculate the cost of shipping.
For example, a Balsa Basics RC bundle kit that measures 102cm x 34cm x 16cm and weighs 2.5 kg is actually calculated at 14kg!
This makes these very expensive to send outside the UK - a large kit can cost nearly £40 to send to France.
PRODUCT REVIEWS
My first attempt for 30 years at a balsa model. The instructions were very comprehensive and took several reads to fully understand. Nevertheless, 4 days later, I've got a model that I'm really chuffed with. Start of a new hobby methinks.
Converted this to RC, electric using rudder and elevator control. A brilliantly designed and produced kit, it flies very well too.
This plane was rather amazing! I got it when I was 11 and didn't build it until i was 13! Was rather challenging but completed withought breaking anything
From France: it is possible, believe me. And she flies well. RC system comes from a second hand Eflite Vapor with a reduced 8mm electric motor coming from an old Kyosho Minium. Battery is 1S 150mAh. Light construction is necessary, specially rear of the plane. Great plaisure to build. Thank you for this wonderfull kit.
This was my first build after a very long break from the hobby. I made it more challenging by converting the model to electric free flight. I eventually got the model trimmed properly and it flies very well. See the video here :- https://youtu.be/-f00zOEvsCE The kit comes with good quality balsa and parts, and the instructions and plans are clear and easy to follow. I have since built the VMC Fokker DVIII (which is ready for its first flight), and I'm currently browsing for my next project.
I built one of these and fitted micro rc gear in it operating rudder and elevator. Power is from a small brushless motor and a 2s 300 mAh lipo battery. It weighs 85g ready to go. I flew it for the first time today and it was a pretty good flyer it looked really cool with the sun light showing up the internal construction. It was pretty stable and quite easy to fly. Well worth converting!
Your addition of the Triplane keeps up the very high standard of quality. Detailed accurate plans, well-selected balsa wood, and the framework goes together with remarkable accuracy. Assembly of all those wings works well with the jigs supplied, but I would highlight the importance of getting the top wings glued to their centre section with exactly the same incidence on both wing panels. Otherwise the lower wings will 'follow' and also be slightly out of whack. The only detail that didn't work for me was making the half cylinders for the engine. Mine looked a bit miserable, so I made some aluminium ones on the lathe, just a bar turned to size, drilled, and I cut a fine thread along for the fins. It was a simple job, and they weighed next to nothing. That would be a very nice addition for the rotary engine models. Sixty years after first tangling with a keil kraft Spitfire, this series are a pleasure to build.
This is the second kit from the magnificent flying machine range I have built and only my third ever balsa build. But I do have to complement VMC on another excellent kit. With the detailed build guide along with more instructions on the plans and the download of the paper templates and decals sheets made this a most enjoyable if a little tricky (due to the triple wing configuration) build. I would recommend this kit to anyone who may be looking for something other than the usual monoplane kit.
Leave a review