Sopwith Camel | 16" Balsa Kit
Sopwith Camel | 16" Balsa Kit
Sopwith Camel | 16" Balsa Kit
Build and fly the classic Biggles bi-plane | Rubber-powered | Includes glue and coloured tissue covering
✓ In stock
❌ Sorry! We're out of stock
You'll earn 0 reward points with this purchase.
AT A GLANCE
EAN: 702785155561
Wingspan: 16" (406mm)
Ease of build: Intermediate
Flying skill: Intermediate
Power system: Rubber
Scale: 1:21
All up weight: 25g

SOPWITH F1 "CAMEL" - A FEARSOME FOE
Arguably the most famous and deadliest British aircraft of World War One, the Sopwith F1 Camel was designed by Herbert Smith as a replacement for his earlier design the Sopwith Pup. The Pup was being outclassed by German aircraft such as the Albatross DIII and a faster, more heavily armed replacement was required. The Pup was relatively easy to fly with somewhat benign characteristics, however the F1 was not.
The powerful Clerget rotary engine created powerful gyroscopic forces that coupled with the torque made the aircraft able to turn to the right very quickly but with a nose down tendency. These dynamic forces plus a nose heavy weight distribution made the aircraft manoeuvrable and a fearsome foe - but tricky to fly. This often ended in disaster especially for inexperienced pilots.
The F1 was the first British aircraft to have guns that fired through the propeller disc via a synchronising gear. These guns were mounted forward of the cockpit with the breeches housed in a "hump". This hump gave the F1 the unofficial nickname of "Camel", which became synonymous with the aircraft despite it never being an official designation.
Along with its stablemate the SE5A, the Sopwith Camel gave the RCF, RNAS and emerging RAF air superiority over the Luftstreitkrafte towards the end of the war.
YOUR KIT
This kit is designed for you to build a traditionally constructed, rubber powered, free flight model of a 1918 Sopwith F1 Camel of No.13 Squadron RNAS. The No. 13 Squadron RNAS (latterly 213 Squadron RAF) provided cover for naval sea planes and shipping, before supporting the Belgian army towards the end of the war.
This is a simple but striking scheme, but you can decide to do your own favourite or more complicated scheme if you wish as there are a vast number of Camel schemes to choose from. Construction of the model from this kit uses the traditional method of "stick and tissue", that consists of a built up balsa wood skeleton (framework), covered with a tissue skin. The balsa frameworks are built over a plan that is printed at the exact scale of the model, which is in essence a real engineering drawing. Power is provided by rubber strip motor that is wound up before flight.
Free flight means just that - once the model is launched, it is on its own. It must follow a predetermined flight path established when the model is initially adjusted for flight or "trimmed". This type of traditional building technique and flying requires a degree of patience and skill, but is extremely rewarding. Typically for a small model and in the spirit of the traditional kits, profiles are simplified and adjusted from the original and a relatively large propeller is used. This is done so that the model is light and stable enough to fly on its own, is simple in construction and can work with the rubber motor. These adjustments have been done with care and sensitivity so that the shape and spirit of the original aircraft is preserved as much as possible. Also in the spirit of the traditional kits, additional items required to build the model are things that can be found in the kitchen drawer or are easily available on the high street.
INCLUDED IN YOUR KIT
Four balsa sheets with precise laser cut parts and strip wood.
PVA glue for building the wooden frames.
One 150mm diameter plastic propeller.
One pre-bent motor hook and shaft.
Small piece of thin acetate sheet for the upper wing window.
Small piece of thick acetate sheet for the screen.
Three low friction plastic "nose" bushings - one for the propeller and two for the undercarriage wheels.
Piano wire for the main undercarriage legs.
A matchstick for the tail skid.
One motor peg (cocktail stick or toothpick).
A plastic drinking straw (approximately 5mm in diameter).
Rubber motor strip.
Tissue to cover the model.
Parts reference sheets (W), full size summary plan sheets (X), scheme diagram sheet (Y) and scheme markings (Z) printed on lightweight paper
Only Suitable For Ages 14+
Choking Hazard - Contains small parts, keep out of reach of children.
SOPWITH CAMEL ORIGINAL INSTRUCTION BOOKLET
Download a spare copy of the instruction booklet included in your kit here: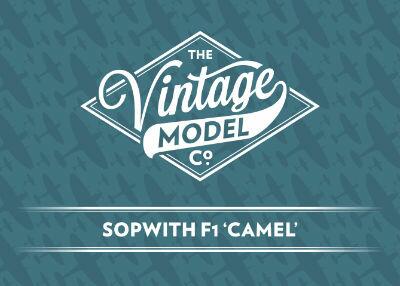 SOPWITH CAMEL MARKINGS SHEET

Click the link below to download a pdf version of the markings sheet included in the Sopwith Camel kit.
The markings sheet should fit onto a single A4 page and may be printed onto your own paper or decal transfer sheet.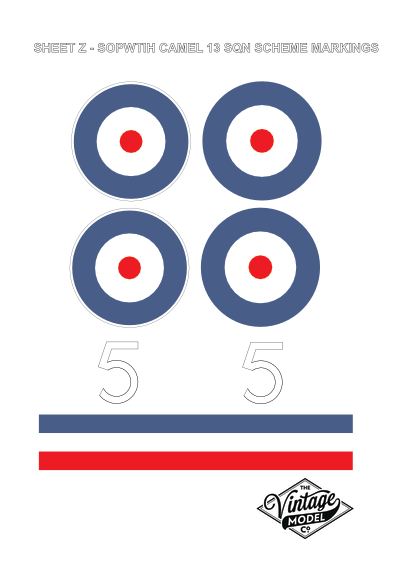 SOPWITH CAMEL PATTERNS SHEET

Download a pdf version of the patterns for acetate and paper/card parts originally drawn on the plan.
This will save you from having to cut into your beautiful plan!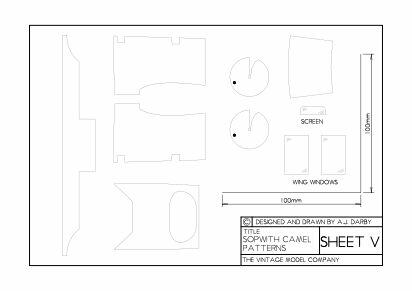 UK SHIPPING
Most orders are shipped via Royal Mail's Tracked 48 service.
For larger or heavier orders, we use UKMail/DHL to deliver your package on a Next Working Day service.
Shipping is free to UK Mainland addresses for orders over £30.00, otherwise we charge £6.00 for Royal Mail Tracked 48 parcels and £12.00 for UKMail/DHL Nest Working Day.
INTERNATIONAL SHIPPING
Smaller items
Items that fit within Royal Mail International Tracked Medium Parcel parameters (59cm x 17cm x 15cm weighing less than 2kg) can be sent to most countries outside the UK.
For example up to 3 of our smaller 18" wingspan kits can fit into one of these parcels.
A parcel like this currently costs around £14 to Europe and around £18 to send to the USA and will take up to 3 weeks to arrive. This is because Royal Mail hands over the parcel to the local Post Office service for your country who have to clear it through customs and then deliver it to you.
The Royal Mail tracking code also transfers over to the tracking for your country's postal service.
Larger items
For items that do not fit within Royal Mail International Tracked Medium Parcel parameters, we use standard international couriers such as DHL, FedEx and UPS.
These companies use something called volumetric weights to calculate the cost of shipping.
For example, a Balsa Basics RC bundle kit that measures 102cm x 34cm x 16cm and weighs 2.5 kg is actually calculated at 14kg!
This makes these very expensive to send outside the UK - a large kit can cost nearly £40 to send to France.
PRODUCT REVIEWS
Delighted and nostalgic to see this excellent kit- identical to the one I bought in Malborough aged 10 in 1954...for 3 shillings and- 4pence - all my saved pocket money -200% inflation? Spent happy weeks constructing..not sure it was great flyer though
Loved building the Sopwith Camel from start to finish. Great quality with clear and detailed plans. Some tips that I learned from an SE5A that I'd finished building just recently. Don't rush building the model, read the instructions and study the plans over and over again. I found it easier completing as much as I could of each part separately, adding the roundels and markings etc before glueing them together. I made a couple of machine guns out of drinking straws as the instructions provided. Not too happy with the end result, especially gluing them on with superglue. The next one I build I'll make them out of balsa wood and drill them into the bulkhead. I've just brought the Sopwith Triplane and I like the balsa dowel provided to make the gun. I only found the PDF file with the paper parts at the end of the build. I spent some time photocopying the plans trying to get rid of the writing, so remember there is a free PDF to download from the site. I found it easier to make a template for the rear covering as the plans state making a ' V ' shape. I used a dressmakers tape and ruler with that it was pretty easy to make. Lastly don't forget to stretch the windshield before at attaching the wings lol. Personally I need to find a better way of attaching it to the fuselage. I enjoy building VMC kits and have them more for display than for flying. It brings back memories of my father building an SE5 when I was a child which I've built which I plan to do another one in the future. The Sopwith Triplane is on the building board ready to go. Here's a short video of the completed Camel. https://youtu.be/XK1Y3Xf8rRU Keep it up VMC. Would love to see a Bristol Fighter or a Fokker DR1
Great flyer, does some very nice tight turns when trimmed out.I only needed a touch of rudder to get mine doing 40ft circles for up to 25 seconds. Needs a fair bit of nose weight to balance it out on account of how short its nose is but all in mine came out at 38 grams,including a pilot and a tonne of heavy double sided decals i added myself. The hardest part of this build is the struts but if you take your time and read and dry run everything twice its no trouble at all.
The VMC Camel Sopwith arrived last week. I opened the box to check that all materials are in. But was unpleasant surprised: The plane cover paper was a kind of green colour. Way of compared with the colour which I thought had ordered: Because: All the pictures and videos that VMC showed of this model it is in 'Camel' Yellow. And I extremely liked that colour. PS: Why not put a remark in the ordering process that the actual colour deviates from the picture on the website and is at this moment this green colour. A person can then choose if he will continue or not.
Bought this kit on a whim - having recently built the Magnificent Flying Machines Spitfire and helped my young son build the Sparrowhawk, both superbly accurate and well-manufactured kits, which fly brilliantly. Decided to fit a miniature CO2 motor instead of rubber to power the Camel, as having all this weight forward suits its very short nose and helped balance the model at its CG almost perfectly. (Rubber would work equally well; although lighter it would need the model to have a bit of added nose-weight to balance and therefore fly correctly.) I did my own WW1 scheme using different coloured tissue to that supplied in the kit, and added a bit more detail - an instrument panel, a pilot figure and very fine elastic rigging - all of which was great fun to do and added a little more character to the model, the scale fidelity of which was already very high. Unlike kits of old, with their printed parts and balsa of variable quality and weight, all the MFM kits I've made are supplied with precisely laser-cut sheets of two densities to match the carefully though-through designs: stiff and heavy for those parts which need it, and light for those parts which don't and where weight can be saved. Follow the instructions in the correct order, build the parts and supplied jigs carefully, and the model will come out exactly as designed. Proof of this for me happened when the Camel, straight off the building-board, executed repeated very well-behaved glides in gusty winds in the back garden, without any stalling or unruly behaviour. Then, with a little tweaking of rudder, etc, I went indoor flying in a school gym and soon had the model flying in lovely, convincingly-slow circles from both hand-launches and take-offs under its own power from the floor. I'd say that a relative novice could easily build and fly this model, while a more advanced maker could go to town on the detail without adding any unnecessary weight, and still have a Sopwith Camel that looks lovely and flies very satisfyingly indeed.
Leave a review