SAMS E20 Duration Kit Release!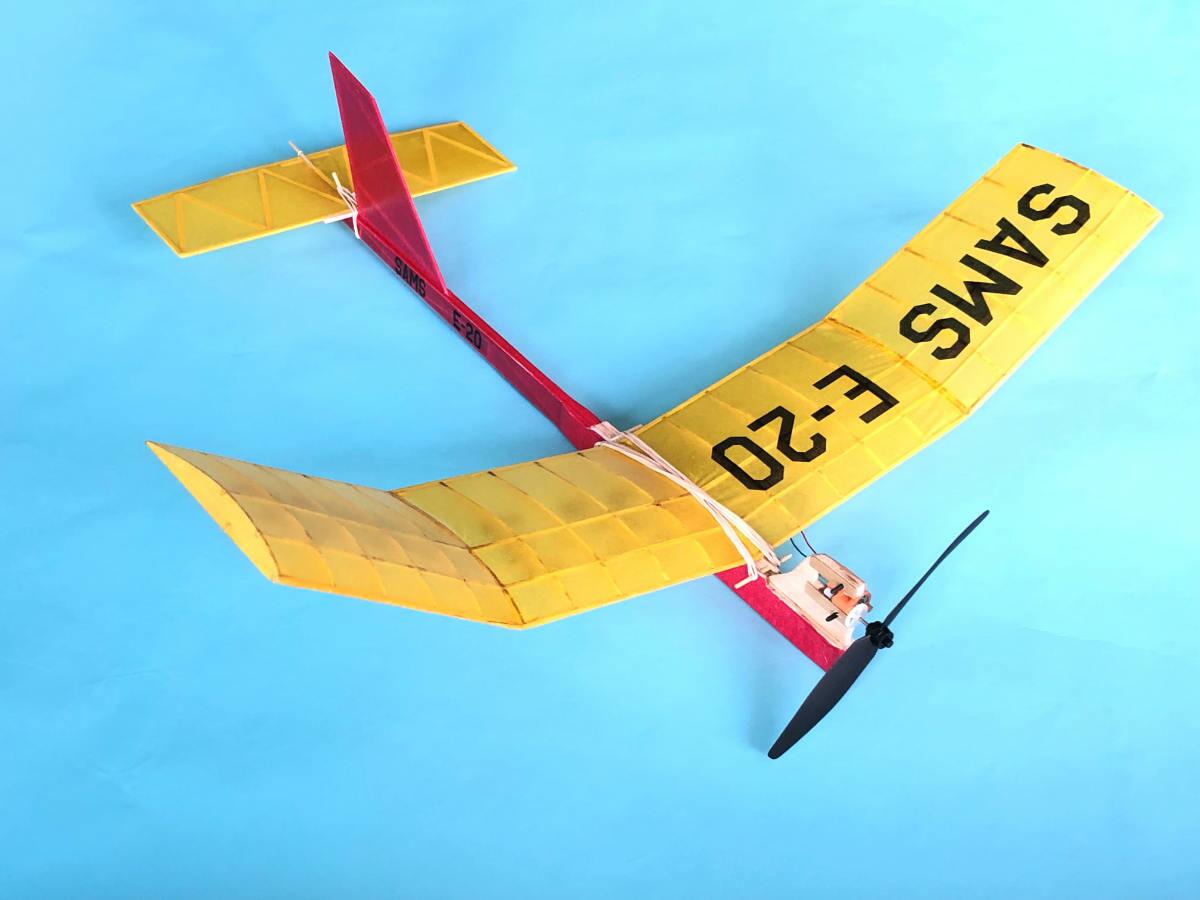 The E20 class is a very simple 20 inch wingspan, free-flight aircraft powered by a small motor and prop that runs for a defined time, with the model then gliding back to the ground (or out of sight).

These flight durations are aggregated, logged and overall longest duration wins. (See below for the more detailed rules).

Back in early 2019, Kevin Wallace (former owner of SAMS Models) and Andy Sephton designed a model for use in E20 competitions.

This design flew very successful and SAMS asked us at the time whether we'd be happy to laser cut the parts for the E20 so that they could sell the kits. We produced a small batch and thought that was that.

When we took over the running of SAMS, I'm sorry to say we forgot all about the E20 kit!

Scroll forward to October 2023 and Stuart Marsden produces an article for the Aeromodeller magazine where he builds one of these SAMS E20s and suddenly we have a surge in enquiries about the kit.

Before making the kit available for sale on our website, we sent our laser cutting files over to Chris Long for him to cast an eye (and digital ruler) over the parts and plan.

Chris spotted a few inconsistencies mainly to do with kerf compensation on our laser cutters and has now updated the parts and plan

Please Note: This is an airframe only kit - if we can put together a flight bundle with motor, battery, timer and de-thermaliser we will in the future.

There is an E20 Worldwide Postal Competition running from 1st November to 31st March 2024 and I have listed the rules from their website here:

"Winter Warmer – Just for Fun!" E20 Worldwide Postal Competition
A warm-up event for World Cup Trophy next year.

Nov 1st 2023 and March 31st 2024

~The Rules~

Fixed Category: E20

1- Model Eligibility:
2- The projected wingspan shall not exceed 20" (508mm).
3- No auto-surfaces are allowed, except dethermalizers
4- The minimum total model weight including battery shall be at least 1 ounce (28.35grms)
5- Models shall use a single 8.5 mm x 20 mm coreless electric motor. No gear drives are allowed.
6- The propeller shall not exceed 2.7 inches (68.58mm) in diameter.
7- The battery shall be one standard single cell LiPo battery of any capacity (mAh) (1s is nominally 3.7V - The max charge of a single cell is approx 4.2V) a battery of any capacity (mAh) may be used, however, HV batteries are specifically not allowed in the fixed category.*

*Supply of LiPo batteries varies in different countries and regions. If you are unable to easily obtain a standard LiPo it is permissible to use a HV LiPo in the Fixed Category, however, it must be charged to a maximum of 4.2V only (not the full voltage of 4.35V)

Open E20 Category
Open E20 incorporates both the Fixed Category and the rules flown as the Peterborough Open E20 Class which has been flown in the UK and in NZ. The rules are:
1- Models must have a maximum 20" projected wingspan (508mm)
2- Any motor, propeller, battery and timer are permitted. (note, any battery, thus HV LiPos are allowed in open Cat!)
3- The motor run will be up to a maximum of 10 secs (Hence, models configured to 8 sec may also be used)
4- Models must have a dethermalizer fitted.
5- No minimum or maximum model weight.
6- The competition comprises three flights to a 60 second Max
* The Open Category means two styles of E20 models can be flown competitively against each other. A model which is legal for the Fixed Category may also fly in this Open Category

Flights:
The motor run for all flights and fly-off(s) shall be 20s maximum in Fixed Category and 10 Sec in Open Category.
The motor time starts on the release of the model and ends when power to the motor ceases.
The maximum for each flight shall be 90 Sec in Fixed Category and 60 Sec in Open Category and three flights will be flown.
Two attempts are allowed for each flight in cases of flights under 20s or motor runs over 20s or 10s respectively.
In the event of a full score, the contestant is invited to record an additional Fly-off flight, which is unlimited.
Motor run for the fly-off will be10 seconds for both Fixed Category and Open Category
All flights can be recorded by the flyer (self-timed or by a timekeeper)
A flight is deemed to have ended when the model lands or when the timekeeper can no longer see the model whichever occurs first.
The contestant is allowed to use two models, including any fly-off(s).

How to enter?

Entry is free, simply make your flights on a day in November or December 2023 or January, February or March 2024 and submit your flight times, rounded down in whole seconds, with your name, country, model and timekeeper to: amcblatna@email.cz

There is also an excellent Facebook group for those of you interested in getting started on the E20 here: https://www.facebook.com/groups/252734703568141
You can buy the SAMS E20 kit from us here: https://www.vintagemodelcompany.com/sams-e20-free-flight-duration-model